Victoria Beckham Pens A Letter To Her Younger Self Saying 'Love at First Sight Does Exist'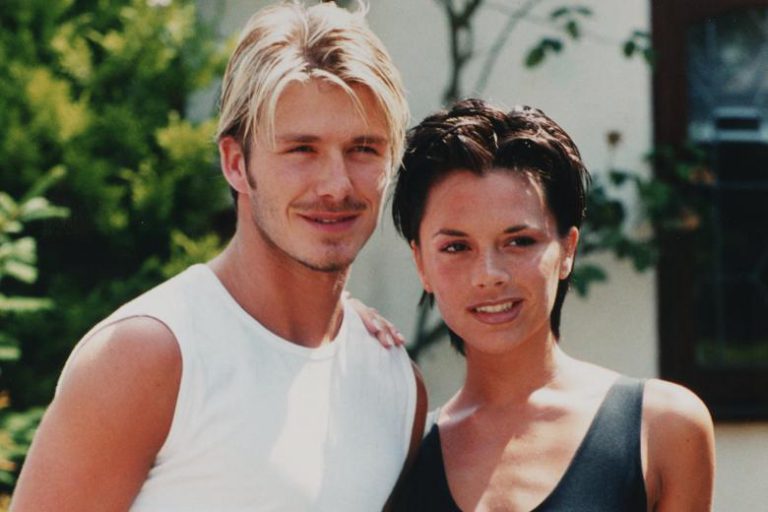 Victoria Beckham graces the cover of British Vogue next month and inside she has opened up about the day she met and fell instantly in love with her husband of 17 years David Beckham.
The 42 year old fashion designer writes a piece for the magazine titled "What I Wish I'd Known." In it she opens up about many things including her first meeting with the future soccer star.
"Yes, love at first sight does exist," she wrote to her younger self. "It will happen to you in the Manchester United players' lounge, although you will get a little drunk, so exact details are hazy."
Victoria at the time of meeting David was part of super girl group The Spice Girls and therefore was much more famous than he was. She goes on to write what her first impressions of her future husband were.
"While the other football players stand at the bar drinking with their mates, you will see David standing aside with his family. (He's not even in the first team at this stage – you are the famous one)," she writes. "And he has such a cute smile. You, too, are close to your family, and you will think how similar he feels to you. He's going to ask for your number. (He still has the London-to-Manchester plane ticket on which you wrote it.)"
The mother of four also spoke about her insecurities, saying, "I know you are struggling right now. You are not the prettiest, or the thinnest, or the best at dancing at the Laine Theatre Arts college. You have never properly fitted in. You have bad acne. You think the principal has put you at the back of the end-of-year show (in a humiliatingly bright purple Lycra leotard) because you are too plump to go at the front. (This may or may not be true.)"
With a true sense of humour, Victoria then went on to poke fun at the many interesting fashion choices she has made over the years- especially during her Spice Girls days.
"You are going to have so much fun with your clothes – PVC catsuits; chokers that say absurd things; weird spiky blonde hair," she wrote. "It will never occur to you that you appear ridiculous. You will turn up at awards ceremonies resembling a drag queen. But I look back at you and smile."
Photos: Vogue