Brazilian Supermodel Model Isabeli Fontana Says 'I Do' In A Nearly Nude Wedding Dress!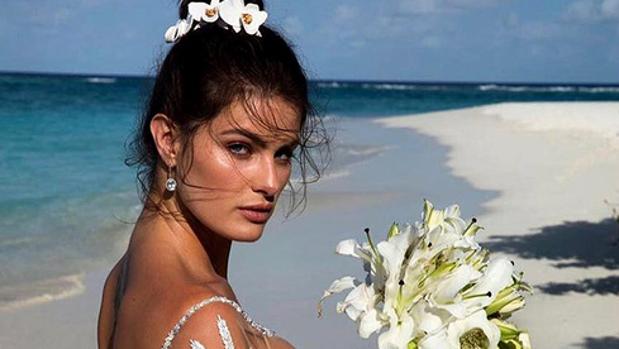 When you're a Brazilian supermodel and former Victoria's Secret angel you can pretty much wear anything at anytime. Especially at your own wedding.
Isabeli Fontana,33 recently got married to NX Zero frontman Diego Ferreo during a beachside ceremony in the gorgeous Maldives. The groom wore an all white suit while the bride was dressed in a barely there sheer slip dress made by Brazilian designer Agua de Coco (translation is 'coconut water).

The model looked exquisite in the sheer mesh coconut water dress which was embroidered with hundreds of crystals and worn over a bandeau cream bikini and high-waisted bottom.
But let's not kid ourselves here! Isabeli could've worn a potato sack and she would still look amazing!

  The wedding cake featured a custom 'topper' by Brazilian 'cake topper to the stars', Ateliê Nanda Biscuits. The bride is dressed in a white bathing suit while the groom serenades her with his guitar. At their feet are two tiny coconuts with straws in them! And the view from the back…
Photos: Instagram and Google images