Week #12: Celebrity Fashion Fix
Week #12 of Celebrity Fashion, Celebrity Style and Celebrity Pics.
Man of the Week: Matt Damon
Matt Damon flashes his pearly whites on the
cover of GQ's January 2012 issue, on newsstands Tuesday (December
20).
Here's what the 41-year-old We Bought A Zoo
actor had to share:
On President Obama's dig on his film The
Adjustment Bureau: "I have to say, it was pretty funny. Whoever came up with it,
it was a terrific joke."
On the Bourne trilogy and choosing not to
continue with the franchise: "If you look at the first three movies, we kind of
pounded that idea of identity and amnesia into the ground. We really got
everything out of it that we could. So to reboot it, we need to come up with
something completely new."
On the new Bourne writer Tony Gilroy: "I don't
blame Tony for taking a boatload of money and handing in what he handed in. It's
just that it was unreadable. This is a career-ender. I mean, I could put this
thing up on eBay and it would be game over for that dude. It's terrible. It's
really embarrassing. He was having a go, basically, and he took his money and
left."
Photos: GQ
Mum of the Week: Jenni Garth
Peter Facinelli and wife Jennie Garth visit
Disneyland with their three daughters on Friday (December 16) in Anaheim,
California.
The 38-year-old Twilight actor and Jennie, 39 –
along with Luca, 14, Lola, 9, and Fiona, 5 – got into the holiday spirit by
riding the Haunted Mansion Holiday seasonal attraction, which is based on Tim
Burton's The Nightmare Before Christmas.
Credit: Paul Hiffmeyer/Disney Parks; Photos:
Getty
10: Fergie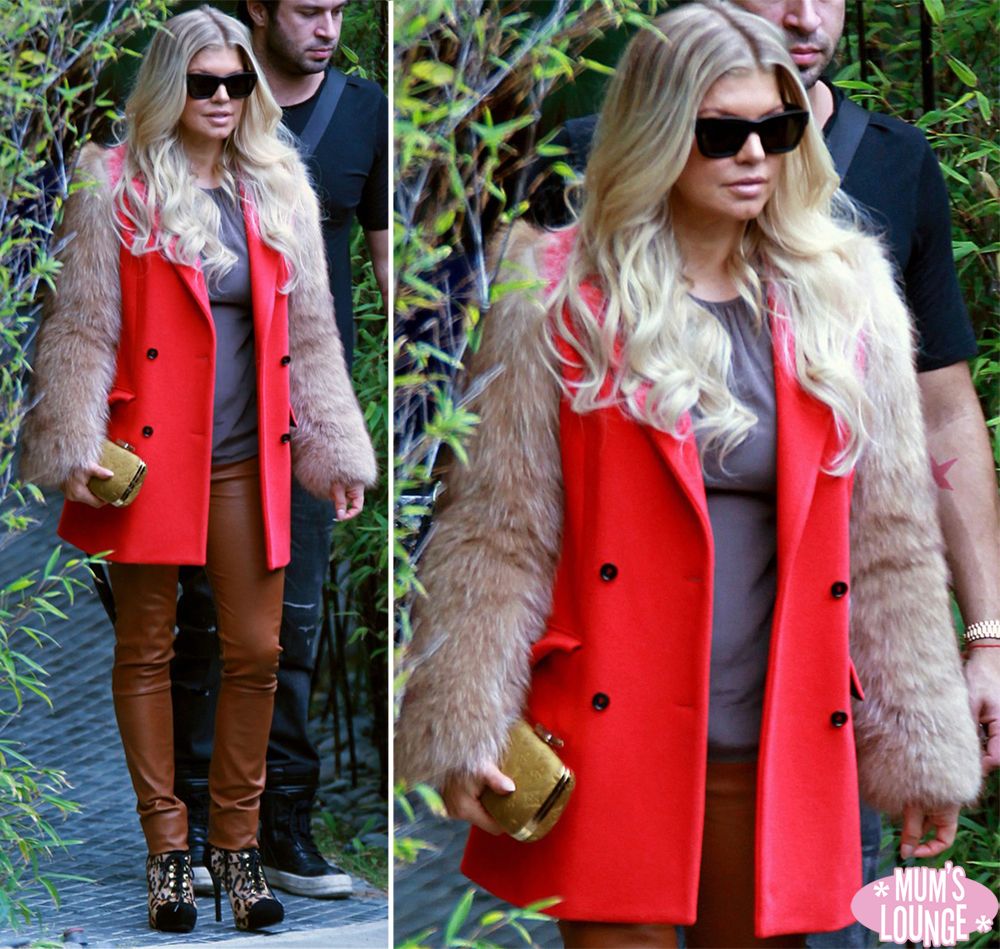 Fergie heads outs of a private residence
wearing a pair of dark shades on Sunday (December 11) in Los
Angeles.
Along with her sunglasses, the 36-year-old
singer donned a fur sleeved coat, brown leather pants, and leopard print heels.
Fur Sleeved Coat.
FUR SLEEVED COAT.
I'll just leave it at that I think. That'll do
me.
No wait, I have more.
She looks like Fozzie Bear in a Hi-Vis council
workers vest.
Credit: Pedro Andrade; Photos:
PacificCoastNewsOnline
9: Rooney Mara
Daniel Craig and Rooney Mara walk the red
carpet at The Girl With the Dragon Tattoo premiere on Wednesday (December 14)
held at the Ziegfeld Theatre in NYC.
The 26-year-old actress is wearing a Prabal
Gurung dress with Christian Louboutin heels and a Fred Leighton ring.
The back of her dress looks like it has a
spine. I do adore those heels though.
Credit: Larry Busacca, Theo Wargo; Photos:
Getty, Wire
8: Jessica Biel
Jessica Biel hits the red carpet of the
Charity:Ball benefiting charity:water held at the 69th Regiment Armory on Monday
(December 12) in New York City.
The 29-year-old actress, who also hosted the
event aiming to bring clean drinking water to people all around the world is
wearing Valentino and accessorized with Lorraine Schwartz
jewellery.
Credit: Jemal Countess; Photos:
Getty
7: Nicole Scherzinger
Nicole Scherzinger smiles at onlookers as she
exits Beso on Thursday (December 15) in Los Angeles.
The 33-year-old entertainer had dinner with
friends after the live X Factor show that aired earlier in the
evening.
Is this frock made out of toilet
paper?
Photos: GSI Media
6: Mariska Hargitay
Mariska Hargitay poses on the red carpet at the
opening night of the Broadway musical On A Clear Day You Can See Forever held at
the St. James Theatre on Sunday (December 11) in New York City.
I love this woman. But what is with the meshy
part on the left there? Surely it would have stayed up without
it?
Credit: Joseph Marzullo; Photos:
Wenn
5: LeAnne Rimes
LeAnn Rimes strikes a pose to celebrate 'NOH8
Day' held at The House Of Blues on Tuesday (December 13) in West
Hollywood.
The 29-year-old singer is wearing pants and a
tank both by Vince, a Mayle vest, Smythe jacket, and Tom Ford
shoes.
Her eyes are finally open!! I love those
shoes.
Credit: Suntzulynn, FayesVision; Photos:
SplashNewsOnline, WENN
4: Sofia Vergara
Sofia Vergara glams it up on the red carpet of
the CNN Heroes: An All-Star Tribute held at The Shrine Auditorium on Sunday
(December 11) in Los Angeles.
Sofia chose a Dolce&Gabbana dress and
jewellery from her own Kmart line.
I love the lace, gorgeous!
Credit: Frederick M. Brown; Photos: Getty,
BauerGriffinOnline
3: Kate Beckinsale
Kate Beckinsale attends a dinner for Flaunt's
"A Tidal Issue" on Tuesday (December 13) at the SLS Hotel in Beverly
Hills.
The 38-year-old actress rocked a Michael Kors
black crepe jersey crystal asymmetric draped dress. She finished off her look
with Chopard earrings and Jimmy Choo pumps.
I love it. Love, love, love it. But her hair
looks weird front on.
Credit: Jordan Strauss; Photos: Wire
Image
2: Katy Perry
Katy Perry unveils her latest fragrance, Meow!
by Katy Perry, on Wednesday (December 14) at The Grove in Los
Angeles.
The 27-year-old pop star paired her pink
Moschino dress with Valentino heels and made a grand entrance on top of a
trolley! (And because of that stoopid bloody trolley, there were no photos of
her fab heels! Not happy.)
The perfume, available exclusively at
Nordstrom, is a companion piece to Katy's first scent, Purr, which debuted last
year.
I love this.
Credit: Frazer Harrison/Getty; Photos:
PacificCoastNewsOnline, AKM
1: Taylor Swift
Taylor Swift is picture perfect in Reem Acra as
she attends the Nashville Symphony Ball on Saturday (December 10) at the
Schermerhorn Symphony Center in Nashville, Tennessee.
The 21-year-old country cutie was honoured with
the symphony's Harmony Award, which honours those who exemplify the unique
harmony between the many worlds of music that exist in Nashville and significant
contributions to the development and appreciation of musical
culture.
Taylor finished her look with Jimmy Choo shoes
and House of Lavande jewellery.
Can this girl get any more perfect?? She looks
amazing.
Credit: Royce DeGrie; Photos:
Getty
Jill Slater: Mums Lounge Fashion Correspondent
www.stuntgirls.com.au
Check in weekly for your recommended dose of celebrity fashion as Jill casts a fashionista's eye over the stars and shares whats hot to wear … and whats not to wear!