Week #36: Celebrity Fashion Fix
Week #36 of Celebrity Fashion, Celebrity Style and Celebrity Pics.
Another week down in the land of the Louboutins and Liebers, and we are left with plenty to comment on! Would you wear any of these outfits? Which is your favourite?
Kate Beckinsale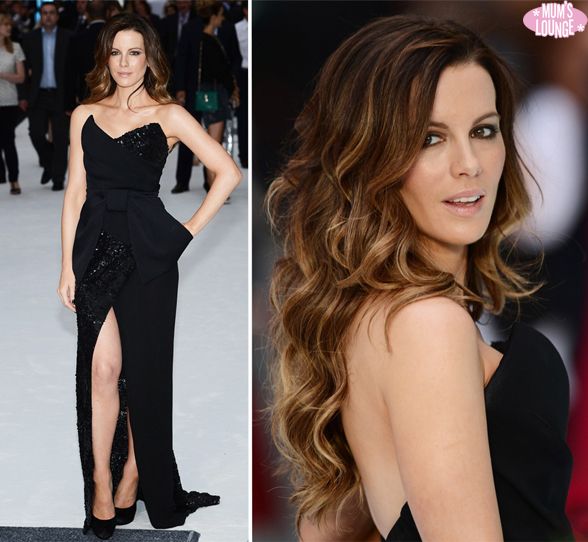 Kate Beckinsale absolutely rocked this Donna Karan Fall 2012 sequin embellished gown with Rona Pfeiffer earrings and Salvatore Ferragamo black satin pumps at the 'Total Recall' premiere in London.
Her hair is simply stunning – the colours, the curls. Perfection!
Kim Kardashian
Kim Kardashian keeps close to her creepy boyfriend Kanye West as they make their way into Yogurtland on Thursday in Honolulu, Hawaii.
The 31-year-old reality star and 35-year-old rapper treated themselves to some frozen yogurt before heading back to their car. Yes, this makes the news. She wore a Givenchy black leather mini skirt and a black sheer tee.
Her Givenchy fold over wedge boots are from the Pre-Fall 2012 collection featuring a shark lock. Can you believe that these things sell for $1,695.00?? They're one of the most coveted boots of the season.
Do you like them?
(I don't, they are bloody awful)
Lea Michele
Lea Michele hits the blue carpet at the 2012 Do Something Awards held in Santa Monica on Monday.
The 25-year-old Glee star is wearing an Armani dress, Jenni Kayne shoes with a Fendi bag and Samira 13 jewellery.
Well, it's interesting, I'll give her that much. She could have left her sparkly pencil case at home though.
Also, her hair looks a bit too styled for the messy look if that makes sense? It's almost like you can see the bits of gel and hairspray keeping it that dishevelled which kinda misses the point. Lea, pay attention to Kate Beckinsale please.
Jessica Biel
Jessica Biel feathered up for the premiere of Total Recall in London with odd results.
The actress wore this Giambattista Valli Spring 2012 Couture dress featuring lace sleeves and a feather peplum with Christian Louboutin Pigalle neon pink patent leather pumps.
This is one of those dresses that will get critical acclaim now by all the designers and Anna Wintour types, but will be looked upon with utter ridicule in exactly 14 years' time.
Camila Alves
Now you see it, now you don't.
Matthew McConaughey's better half, Camila Alves, attended the celebration of Nylon Guys' September 2012 issue held in Santa Monica, in a form-fitting little black dress.
Yeah, I totally looked like this when I was pregnant too. Yep. *nods convincingly*
Jennifer Lopez
Jennifer Lopez looks gorgeous at her post concert party held at Pure Nightclub at Caesars Palace early Sunday morning in Las Vegas.
The 43-year-old entertainer, who is currently on tour with Enrique Iglesias, wore a blue strapless dress on the red carpet featuring white stripes on the front/back and accessorised with her natural snakeskin bag and shoes.
Her Christian Louboutin Lady Peep python pumps feature a 6? heel, 2? platform and peep-toe. You can find the Lady Peep online for $1,495.00 USD.
Heidi Klum
Heidi Klum is wearing leopard print at the launch of her Truly Scrumptious collection at Babies "R" Us on Wednesday in New York City.
The 39-year-old model's brand-new and exclusive assortment of products for babies and children will arrive in Babies "R" Us stores across North America and online on September 15.
Heidi is wearing a MICHAEL Michael Kors caramel leopard print peasant dress, a Michael Kors belt, and Alaia shoes.
I am starting to get aggravated by this nude lipstick/unkempt hair trend. It doesn't look natural, it looks half-arsed.
Kelly Osbourne
Kelly Osbourne's transformation into your nanna is almost complete.
The lilac-haired one is wearing an Armani Exchange dress at the 2012 Do Something Awards on Monday.
It might have fitted better on her if she had shoulders. Or is it her hair that makes her look like she has none? Either way, we've seen her look a LOT more awesome than this.
Ellie Kemper
The Office and Bridesmaids actress Ellie Kemper rocks the blue carpet at the 2012 Do Something Awards todays.
This is such a cute little dress. The colour suits her and it fits her beautifully. Hate her makeup though. She could have done waaaay better there. Why not go for something a bit more daring than omitting all under-eye makeup? She's squinty enough.
Jordin Sparks
Jordin Sparks looks amazing in this white Chagoury Couture embellished custom gown at the premiere of her film Sparkle at Grauman's Chinese Theatre on Thursday.
The 22-year-old entertainer accessorised with jewellery designed by her boyfriend, Jason Derulo and carried a Judith Leiber minaudière (ie, small clutch).
She wore Jimmy Choo Crown peep-toe pumps which are from the Fall 2012 collection and covered in iridescent sequins. The Crown is available online for around $800 AUD.
Nicole Scherzinger
Nicole Scherzinger is white hot at the X Factor UK press conference held in London on Thursday.
I love this dress. It looks fantastic on her and is simple and classy and understated. I love the jacquard weave too.
Nicole wore Giuseppe Zanotti nude patent leather d'Orsay peep-toe pumps which are available online for $750 USD.
Kate Beckinsale
Kate Beckinsale shone at the premiere of her new film Total Recall in Berlin last Monday.
The 39 year old actress wore a stunning Naeem Khan Fall 2012 gown and accessorised with Neil Lane jewels, red nails and a soft curled up-do (LOVE her hair!!). Just perfection. Beautiful. Not revealing too much boobage, no dramatic splits, no saucy cut outs, just pure style and elegance.
What do you think? Kate's look is my favourite for this week, which is yours? Tell us in the comments below!
xx Jill
Mum's Lounge Fashion Correspondent
Check in for your weekly fashion fix as Jill casts her fashionista's eye
over the week in celebrity fashion, sharing what's hot to wear… and
what NOT to wear!
Jill comes to us from STUNTgirls, for fun and fashion: www.stuntgirls.com.au
Credit: Jason Merritt, Ben Pruchnie, Michael Loccisano, David Becker, Ian Gavan, Sean Gallup, Michael Buckner, Eroteme.co.uk, Frazer Harrison, Frederick M. Brown; Photos: Getty, PacificCoastNewsOnline, AKM-GSI, FameFlynet Pictures, Bauergriffinonline