Week #4: Celebrity Fashion Fix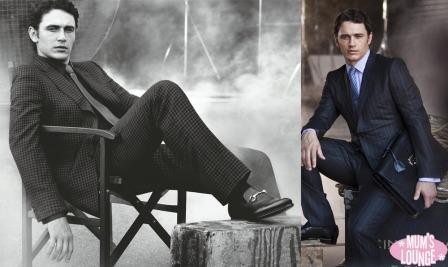 Week #4 of Celebrity Fashion, Celebrity Style and Celebrity Pics.
Man of the Week: James Franco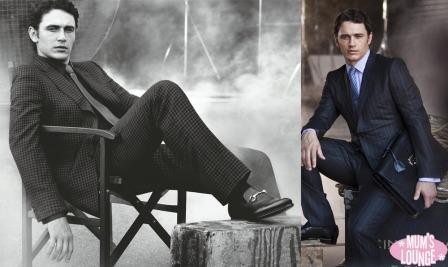 James Franco suits up for a new campaign for Gucci's exclusive Made to
Measure service.

The 33-year-old actor posed for French photographer Nathaniel Goldberg in
Rome for the campaign, which features James in a film studio and showing off
his own Made to Measure suit.

Not bad… not bad at all!

Photos: Nathaniel Goldberg
Mum of the Week: Kate Hudson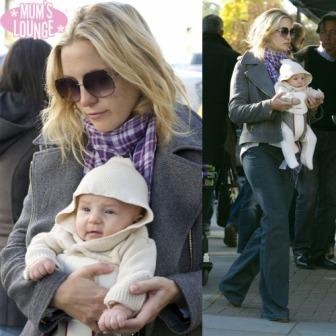 Kate Hudson carries her adorable 3-month-old son, Bing, out for a stroll in
Notting Hill on Saturday (October 22) in London. The 32-year-old Something
Borrowed actress was joined by her fiance, Muse rocker Matt Bellamy.

Kate has been spending time between London and New York City recently –
she's shooting her latest movie, The Reluctant Fundamentalist, in the Big
Apple with Kiefer Sutherland and Naomi Watts' partner Liev Schreiber.

Photos: Flynet Pictures


10: Ashley Greene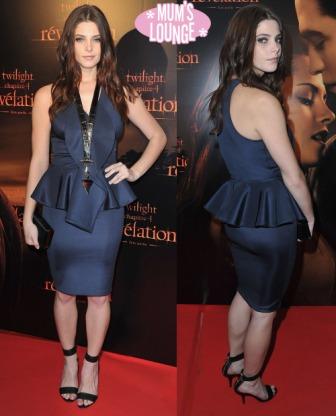 Ashley Greene hit the red carpet at the French premiere of Breaking Dawn on
Sunday (October 23) at Cinema Gaumont Capucine in Paris.

Ashley wore Givenchy and I think she knows her arse looks big in it…

Credit: Pascal Le Segretain; Photos: Getty
9: Lindsay Lohan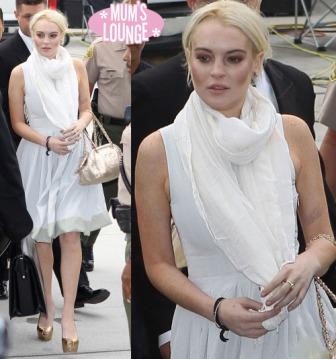 Lindsay Lohan arrives at the LAX Courthouse on Wednesday (October 19) in Los
Angeles.

The 25-year-old actress and her attorney, Shawn Chapman Holley, met with
Judge Stephanie Sautner for a progress report on Lindsay's probation
requirements.

Judge Sautner was not sympathetic toward Lindsay's replacement for community
service – she was sentenced to 360 hours of service at the Downtown Women's
Center, but Lindsay moved to the Red Cross instead, calling the experience
at the Women's Center "not fulfilling."

"Is it supposed to fulfil the defendant or is it supposed to be
rehabilitative and/or punitive?" the judge added.

Judge Sautner revoked Lindsay's probation and set a probation violation
hearing on November 2. Bail was set for $100,000.

Just a bit of eye-rolling goss there for you.

Photos: GSI Media


8: Demi Moore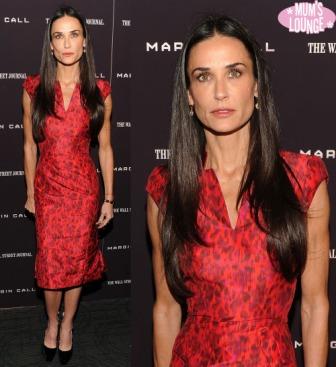 Demi Moore looks painfully thin in red at the premiere of her film Margin
Call on Monday (October 17) at the Landmark Sunshine Cinema in New York
City.

Demi wore a Zac Posen dress and Brian Atwood shoes. She accessorized with
Forevermark earrings and a Neil Lane bracelet and ring. Those rumours of a
split with Ashton Kutcher are just not going away with sources close to the
couple reporting that she has hired a divorce lawyer. Interesting times
ahead for these two, that's for sure.

Credit: Jason Kempin; Photos: Getty


7: Jennifer Aniston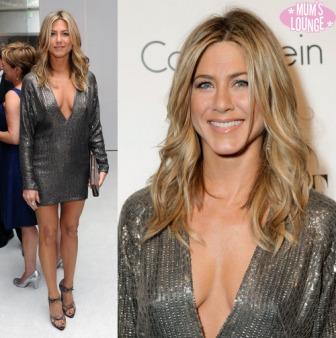 Jennifer Aniston sparkles in silver at Elle's 18th Annual Women in Hollywood
Tribute held at the Four Seasons Hotel on Monday (October 17) in Beverly
Hills. The 42-year-old actress was joined at the event by her beau Justin
Theroux, and her pal Reese Witherspoon.

Jennifer is being honoured at the event among many other film actresses
including Freida Pinto and Evan Rachel Wood, to name a few. Jennifer is
wearing a Kaufman Franco dress, Balenciaga shoes, Ferragamo bag, and Fred
Leighton jewellery.

I think it makes her look kinda boxy. But she does look fantastic. And those
shoes!!

Credit: Stefanie Keenan, Tom Williamson, Lester Cohen; Photos: Getty


6: Rosie Huntington-Whiteley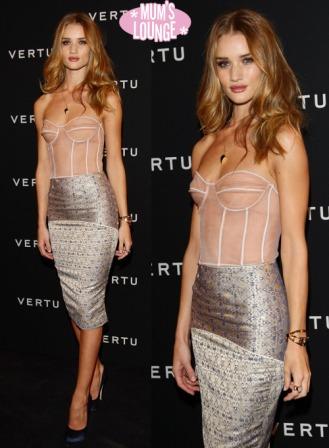 Rosie Huntington-Whiteley wows in a Richard Nicoll nude corset top at the
Vertu Global Launch for Constellation held at Palazzo Serbelloni on Tuesday
(October 18) in Milan, Italy.

The 24-year-old actress and model, who paired her top with a Richard Nicoll
patterned skirt and navy Salvatore Ferragamo pumps, was in attendance for
the party that introduced the new luxury touch screen cell phone.

I had to look twice at this one when I first saw it. And I have to admit
that I was trying to make out some nipples there too. Either she doesn't
have any or the bust is lined. Hehe!

Credit: Vittorio Zunino Celotto; Photos: Getty


5: Diane Kruger

Diane Kruger is looking cosy at the premiere of her new film, Special
Forces, on Thursday (October 20) at Cinema Gaumont Opera in Paris. The
35-year-old actress is wearing a Chanel jacket with Helmut Lang pants and
Alexander McQueen shoes.

This works, not entirely sure how, but it does! She's a gorgeous woman.


4: Evan Rachel Wood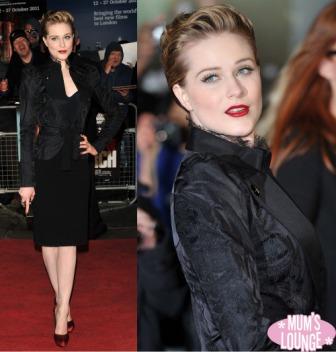 Evan Rachel Wood hit the red carpet at the premiere of her new movie, The
Ides of March, on Wednesday (October 19) at the Odeon Leicester Square in
London. Evan is wearing an Emilio Pucci jacket.

Here she is in the first of 2 images of her this week. The 24 year old
stunner is just incredibly stylish and I think I'm developing a bit of a
girl crush. She's just stunning.

Photos: WENN


3: Freida Pinto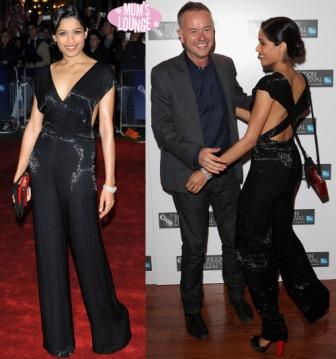 Freida Pinto glams up the red carpet at the premiere of her new film,
Trishna, on Saturday (October 22) at Vue West End in London.

The 27-year-old Indian actress, who met up with director Michael
Winterbottom, is wearing a Ralph Lauren Collection jumpsuit and bag with
Chopard jewellery.

Now I'm not normally a fan of the jumpsuit, but this, I like. She looks
relaxed and happy and she shines.

Credit: Tim Whitby; Photos: Getty, WENN


2: Dita Von Teese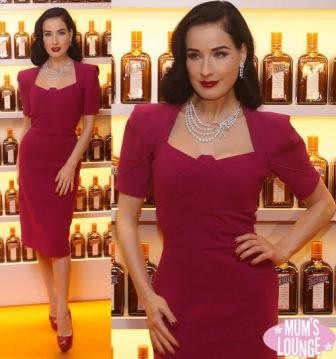 Dita Von Teese arrives at the Cointreauversial Cocktail Party at Sky Bar on
Friday (October 21) in Singapore. Dita is wearing a Roland Mouret dress with
a bag and shoes by Christian Louboutin.

Dita is a bit of a perennial favourite here at the Lounge. Week in, week out
she is immaculately dressed in the most divine outfits with perfect hair and
makeup and gorgeous shoes. A definite style favourite.

Credit: Chris McGrath; Photos: Getty


1: Evan Rachel Wood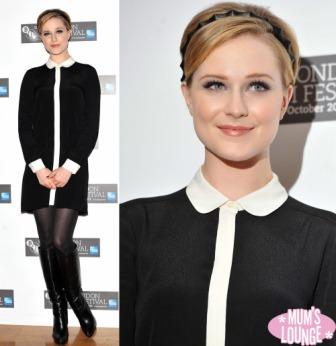 Evan Rachel Wood stepped out for a photo call for her new movie, The Ides of
March, on Wednesday (October 19) in London.

The 24-year-old actress wore Alexa Chung by Madewell.

Could this woman be any better looking? Sure, she's not built like the pouty
Amazon Rosie Huntington-Whitely, nor is she one of those blonde, tanned
cookie cutter starlet-wannabes either. Evan is all class, all natural and
drop dead gorgeous. She's probably a pretty good actress too! lol!

Credit: Daniel Deme; Photos: WENN, Flynet Pictures


Jill Slater: Mums Lounge Fashion Correspondent
www.stuntgirls.com.au
Check in weekly for your recommended dose of celebrity fashion as Jill casts a fashionista's eye over the stars and shares whats hot to wear … and whats not to wear!