8 Time-Saving Dinner Hacks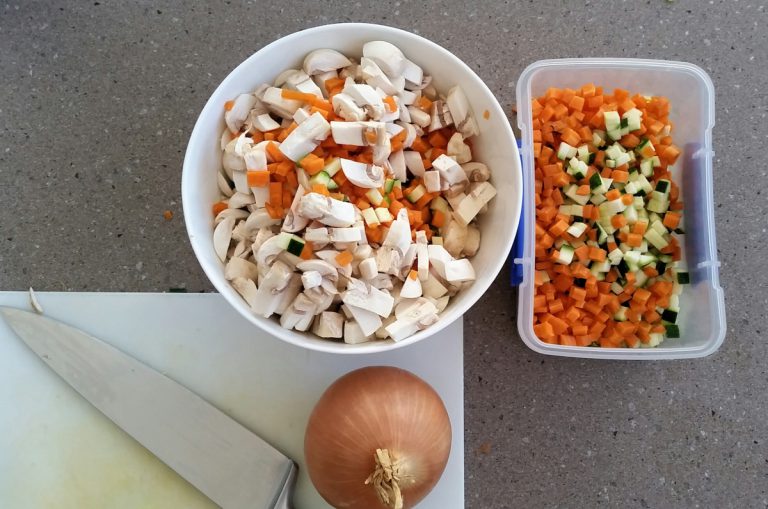 AKA How I get dinner on the table in 25 minutes on a work night
Whether you go out to work, stay at home with the kids, are retired, single, whatever – dinner time can be a soul destroying exercise in frustration. Thinking about what you're going to cook, making sure you've got the right ingredients, finding the time to prep, wash, sort, chop, and then finally start to cook the meal… URGH!
On top of that, if you're cooking for a family, you can almost guarantee that at least one family member will flat out refuse to eat the meal you've just slaved over. I can't help you with getting your family to enjoy your dinners, but here are 8 time-saving dinner hacks to help take the pressure off getting it on the table.
Meal plan
Meal planning is so hot right now, and for totally good reason. Creating a meal plan at the beginning of each week means you have one less thing to worry about every night – and you'll have an answer to that most hated of questions, "what's for dinner mum?"
You might want to keep your meal plan pretty loose, and just plan out seven meals you're going to cook that week (or five if you tend to 'freestyle' at the weekend) and let circumstances dictate the order, or, if you're like me, you might prefer to plan out each night. Make your shopping list based on your meal plan (which will also save you money!).
Batch cook
When you're cooking a meal, cook a double batch so you've effectively cooked two night's worth of dinners at once. Having a homemade meal in the freezer ready to pop in the microwave when you get home from work can be a lifesaver on those evenings when you get home late.
As well as making double batches, you can also try to make up a big batch of something on the weekend to have in the freezer. Things like curries, soups, casseroles or spag bol work well for freezing.
Cook two dishes at once
Another great way to save time is to cook two meals at once. So you could cook something on the stove, and something else in the slow cooker. The beauty of cooking this way is that only one dish needs to be on the table at 6pm (or whenever dinner time is at your place), and the other dish can keep cooking for however long it needs, ready to go in the fridge or freezer for another night.
Reinvent your leftovers
If you do a lot of batch cooking it can feel like you're eating the same thing every few days. But there are lots of ways to turn a meal into something else. If you make an enormous batch of spag bol sauce, you can quickly turn it into chilli con carne for another night by adding some Mexican spices and a tin of red kidney beans. Alternatively, you could use that spag bol sauce to make a lasagne, a moussaka, or even a shepherd's pie.
Other easy leftover reinventions include frittata, fried rice, pies or 'bubble and squeak'.
Pre-prep your shopping
Spend an extra half an hour or so prepping your shopping. Buy meat in bulk and then chop it up and portion it into ziplock bags. This works out much cheaper than buying single trays of pre-diced or sliced meat, and you can also chop, dice or slice it however you prefer.
*Tip – spread the chopped meat out into a flat layer in the ziplock bag when you pop it in the freezer so it defrosts more quickly.
Also pre-chop the veg you'll be using for the first few nights' meals (based on your meal plan), and store it in the fridge, ready to throw in the pot with your pre-chopped meat when you get home from work.
Freeze mash
Make up a big batch of mash potato or sweet potato (or a combination), and use an ice cream scoop or big spoon to measure out even portions of the mash onto a tray lined with baking paper. Place the tray in the freezer for a few hours (or overnight), and then place the 'balls' of frozen mash into a big ziplock bag and pop it back in the freezer for when you need them. To reheat the frozen mash, place however many portions you need into a microwave safe bowl, cover, and microwave on medium power for about 5 minutes. Stir it really well, and then heat on high for a minute at a time until it gets to your desired temp.
Boil the kettle for boiling water for pasta
Don't stand around waiting for the water to come to the boil in a pot for your pasta, boil the kettle and fill the pot from that. This one sounds really simple, but it can easily shave 10 minutes off your cooking time.
Defrost meat in a hurry
Of course the ideal way to defrost meat is overnight in the fridge, but what about when you've forgotten to take it out of the freezer? If you've followed tip number 5 and pre-chopped your meat before freezing it in a ziplock bag, it will defrost pretty quickly if you run it under a luke warm tap for a few minutes. For steak and other meat in bigger bits, place on an aluminium tray at room temp to speed up the defrosting process.
Do you have any time-saving dinner hacks to share?
About the author
Rachel McDougall is a working mum of two cheeky kids – Little Miss (3.5) and the Stuntman (nearly 2) – from the 'burbs in Sydney, Australia. She's a dairy free coffee addict who appreciates red wine, bad language and jokes with inappropriate punchlines.
Rachel blogs as Mumma McD over at Toilets aren't for Turtles about living dairy free, extended breastfeeding, trying to find that elusive work/life balance, and the general absurdity of raising toddlers.