One for the Dads: Spoil Her this Valentines Day with Breakfast in Bed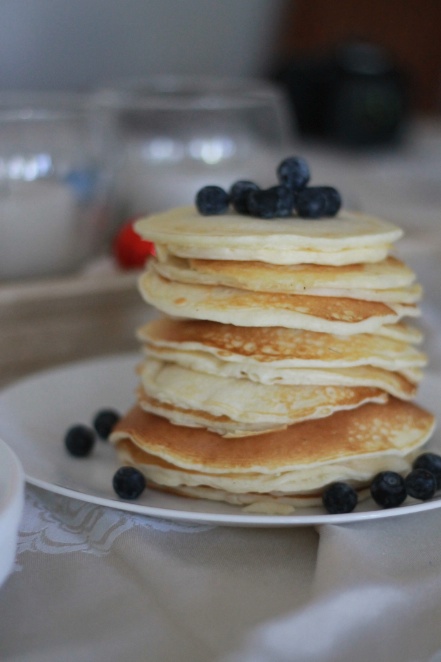 Although she may not say it, your wife/partner already wants Breakfast in Bed this Valentines Day. Because really, who doesn't? And she totally deserves it. Especially after getting up to the new baby three times last night, nudging your snoring ass over in the bed then only getting two hours sleep herself, the least you can do is make her breakfast in bed on Valentines Day.
Breakfast is one of my favourite meals of the day. And for a long time, it's been my favourite meal to go out for. When my kids were still new and I'd had no sleep, the last thing I want to do is get up, poke myself in the eye applying mascara, find non-spewed on clothes and head out for a meal at a cafe. In public. I dreamt of being brought freshly brewed espresso and steaming pancakes to my bedside, where I wake peacefully (and in my own time!) and sit to enjoy them. By myself, without being climbed on or having to share 80% of my pancakes.
Pity my Hubby can't cook. And doesn't drink coffee, so refuses to lean how to operate my coffee machine. So I thought I'd create a simple step by step guide to making a fantastic and easy Breakfast in Bed for me – or your wonderful wife/partner !!! – this Valentines Day!
I thought I'd include two options, so then there's no excuse really. A simple Eggs Benedict or Fluffy Pancakes!
Eggs Benedict
No doubt the majority kitchens these days are home to a Thermomix. I mean, who doesn't have one? (and if you don't, call me. I'll sell you one!) Eggs Benedict was always a meal I rarely cooked as hollandaise sauce can be such a pain to make. But in the Thermomix, its as simple as throwing all the ingredients into the Thermo, setting the timer and letting it do it's thing while you get on with the other elements.
For Eggs Benedict for two people you'll need:
4 Eggs
4 Egg yolks
130g Unsalted Butter
20g Fresh Squeezed Lemon Juice
2 English Muffins
2 – 4 Slices of Ham or Some Smoked Salmon (which ever your preference)
Start with filling a pot with hot water and a dash of white vinegar (helps to hold the eggs together) and putting it on the stove set on high to boil. While that's reaching boiling point, start the hollandaise sauce.
Hollandaise Sauce:
Insert Butterfly into the Thermomix. (ask wife what butterfly is if you're not sure). Place all ingredients into mixing bowl and cook for 8 Min/90C/Speed 3.
Now that the sauce is cooking, poach 4 eggs in the now boiling water. Top tips for poaching eggs: Crack them into a separate bowl and gently slide them into the boiling water one at a time. Once all the eggs are in the water, turn the heat off but leave it on that hot plate. The residual heat will cook the eggs perfectly, every time.
When all the eggs are in and cooking, toast the muffins in the toaster. Once toasted, top with the ham or salmon. Gently lift the eggs from the water using a slotted spoon and ensuring to drain as much water off them as you can. Place them on top of the ham. The Thermomix will beep at you when the sauce is ready, then spoon it on top of the eggs.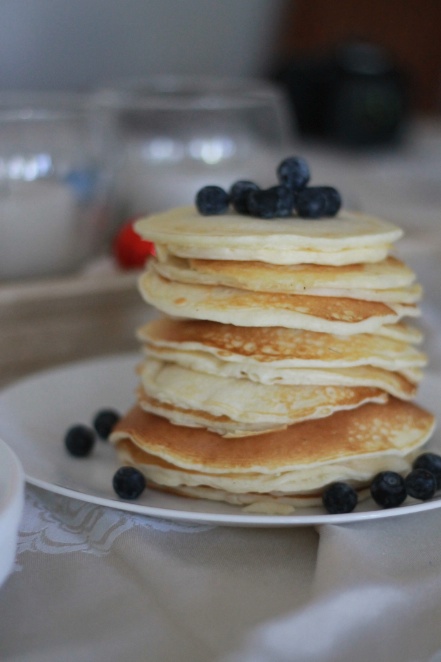 Fluffy Pancakes
Who doesn't like pancakes, really? Cake for breakfast? Sign me up!! I'll always choose pancakes over any other breakfast option and these ones are healthy and easy to make. I've kept the recipe simple, you don't need any fancy gadgets or a Thermomix for it. Just cook it with love.
You'll need:
120g Self-Raising Flour
1/2 Teaspoon Baking Powder
2 Teaspoons Caster Sugar
3/4 Cup Buttermilk
1 Egg
Olive Oil Spray
Strawberries, Mango or Blueberries
Whipped Double Cream
Start by whisking the eggs and buttermilk together in a bowl. When combined, add the flour, baking powder and sugar and whisk together well. Heat a pan over medium heat and spray with olive oil. Put one ladle of batter in and turn when there are bubbles evenly over the top of the pancake. Cook on the other side for another minute before removing from the pan. Repeat until all the batter is used.
Serve her two or three pancakes, topped with fresh fruit and cream.
Which ever breakfast you chose to make, make sure you serve it to her in bed with a fresh coffee or tea and a napkin. Keep the kids OUT OF THE BEDROOM while she eats at her leisure. And when she's finished, do the dishes yourself.
Spend a little time spoiling her this Valentines Day, just because you can!
I'm Daneyl, I'm a wife, mother, blogger and opera singer (but only when I'm in the shower). You can find me in the kitchen, at the piano or on Instagram (@thestrandsofme). I love chocolate, reading and learning how to be a parent to my two gorgeous cherubs. Check out my blog at www.thestrandsofme.com