Easy Pic n Mix Rocky Road Recipe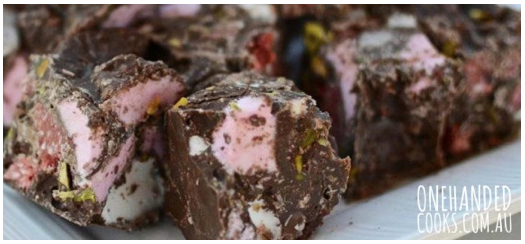 Christmas Gift Idea: Rocky Road Recipe
Christmas is a wonderful time of year with all the giving, receiving, family, friends, and copious amounts of ridiculously delicious food. It can also get a tad expensive, and the thought of what-gift-to-give-who can get a little tiresome. Making your own batch of Rocky Road, packaging it beautifully and finishing it off with a thoughtful card can really make the perfect gift. It is also cheap, made with love, and a little tip – you'd be wise to make two batches.
Ingredients
250g milk chocolate, chopped
250g dark chocolate, chopped
2 large cherry ripe bars, chopped
2 bounty bars, chopped
200g marshmallows, chopped
½ cup pistachio nuts, chopped
½ cup desiccated coconut
Pick and Mix options
You can add any other sweet goodies you like. Try toasted hazelnuts or almonds, and substitute the bounty for Turkish delight or liquor jellies.
Method
Step 1
Line a standard slice tin with greased baking paper
Step 2
Combine all ingredients (except milk and dark choc) in a bowl and mix well
Step 3
Place milk and dark chocolate in a heatproof bowl above a pot of boiling water. Gently melt, stirring continuously.
Step 4
Pour dry ingredients into melted chocolate, mix well.
Step 5
Pour into tin (quickly, as it sets immediately), and refrigerate until chocolate has set.
One Handed Cooks is a baby and toddler food blog that inspires people to cook beautifully simple, healthy food for their children. The writers Allie and Jess share their nutritional knowledge, starting solids information and fussy eating tips while providing hundreds of recipes suitable for every age, allergy and taste. Each nutritious recipe has been lovingly gummed, chewed, picked up, smushed and devoured by their very own children and their little friends. One Handed Cooks is the multitaskers dream as everything is quick and easy to make, leaving you one free hand to wipe a nose, give a cuddle or feed a hungry child.
FB: http://www.facebook.com/onehandedcooks