Cheesy Braised Beef & Vegetable Pasta Bake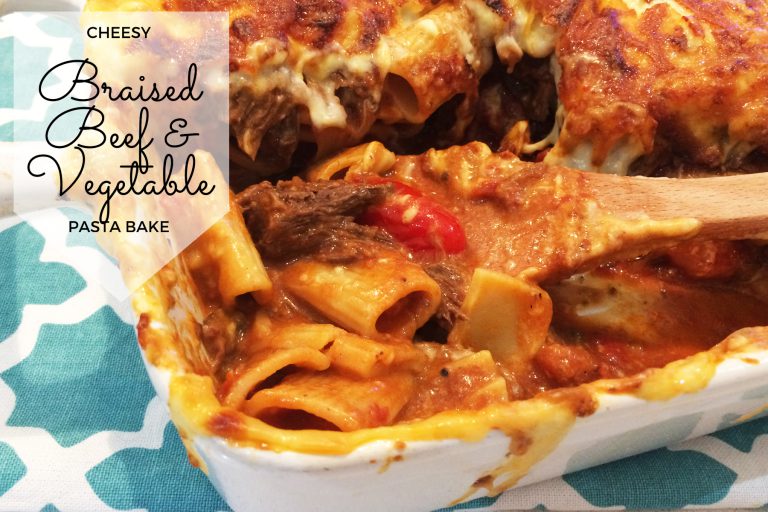 Cheesy Braised Beef & Vegetable Pasta Bake
This delicious cheesy pasta bake features an amazing braised beef and vegetable sauce that has been simmering away on the stove, filling your home with the amazing smells of red wine and tomatoes. Oh hell yes!
Following this recipe is easy, but make sure you have a few hours up your sleeve! You need to braise the beef in the red wine and tomato sauce along with some eggplant, mushroom, carrot and celery for at least an hour and a half. But it's oh so worth it – the beef will be shredded and mixed with the vegetables to make the most amazing pasta bake ever.
Here's what you need to get this baby on the table.
I had already put the beef into the frying pan when I remembered to take the photo so you need about half a kilo of casserole steak as well as a small eggplant, one huge portobello mushroom, a carrot, a stick of celery, a punnet of cherry tomatoes, some fresh oregano, garlic, olive oil, red wine, tins of tomatoes and tomato paste. Plus you'll need some butter, grated tasty and parmesan cheeses, plain flour and milk for the cheese sauce, and of course some dried pasta. I used rigatoni because that's what I had in the pantry. Use whatever shapes you like – penne or farfalle would be great as well.
Brown the meat (whole, don't cut it up, you need to shred it later) then remove from the pan. Then add all of the veggies except for the cherry tomatoes and cook for a few minutes. Then return the beef to the pan with the wine, tins of tomatoes and tomato paste, give it a good stir and pop the lid on. Let it braise for at least an hour and a half.
Then simply remove the beef and shred with some forks. Return the meat to the sauce and stir through. Cook the pasta and make the cheesy white sauce. Then mix the sauce with the cherry tomatoes and the pasta, pop into a casserole dish and pour the cheese sauce on top. Sprinkle with cheese and oven bake for another 30 minutes or until golden and bubbling. Serve immediately and enjoy!
Cheesy Braised Beef & Vegetable Pasta Bake
Ingredients
2 tbs olive oil
500g casserole steak
1 brown onion, coarsely chopped
1 carrot, coarsely chopped
1 celery stick, coarsely chopped
2 garlic cloves, crushed
1 small eggplant, cut into 2cm pieces
1 large portobello mushroom, cut into 2cm pieces
1 cup dry red wine
2 tins diced tomatoes
2 tbs tomato paste
1 tbs fresh oregano, coarsely chopped
500gm dried pasta
200g punnet cherry tomatoes, halved
For the cheese sauce:
60g butter
1/4 cup plain flour
2 cups milk
1 1/2 cups grated tasty cheese
1/2 cup finely grated parmesan cheese
Instructions
Heat half the oil in a large heavy based pan over high heat. Add the beef and cook, turning for 5 minutes or until browned all over. Transfer to a plate.
Add the remaining oil to the pan and add the onion, carrot, celery and garlic. Cook, stirring for 5 minutes or until onion softens. Add the eggplant and mushrooms and cook, stirring for 5 minutes or until light golden. Return the beef to the pan and pour over the wine. Bring to the boil, then reduce heat to low. Add the canned tomatoes, tomato paste and oregano. Cook, covered, stirring occasionally for 1 ½ hours or until beef is very tender.
Use tongs to transfer the beef to a large bowl. Coarsely shred the beef and return it to the sauce. Season with salt and pepper.
Meanwhile, cook the pasta in a large saucepan of boiling salted water following packet directions or until al dente. Drain well.
Preheat oven to 200degC. To make the cheese sauce, melt the butter in a saucepan over medium heat. Add the flour and cook stirring for one minute or until the mixture is slightly grainy. Add the milk and cook, stirring constantly for 5 minutes or until sauce boils and thickens. Remove from heat and add 1 cup of the tasty cheese and half the parmesan. Stir until melted and combined.
Combine the pasta, beef mixture and cherry tomatoes in a large bowl. Spoon into a 12 cup capacity ovenproof dish. Pour over cheese sauce and sprinkle with remaining cheese. Bake for 30 minutes or until golden and bubbling.
https://mumslounge.com.au/lifestyle/food/cheesy-braised-beef-vegetable-pasta-bake/