Espresso Panna Cotta with Hazelnut and Cinnamon Brittle Recipe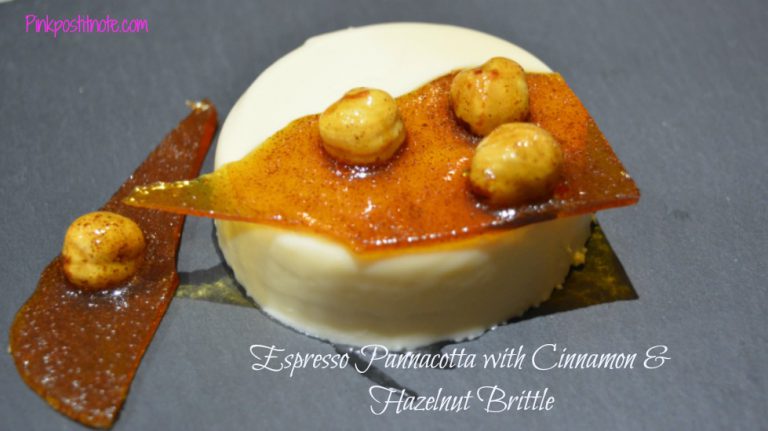 Espresso Panna Cotta with Hazelnut and Cinnamon Brittle Recipe
I cannot, can NOT begin to tell you how delicious this was. Creamy panna cotta with just a hint of coffee with the delicious sweetness of brittle, crunch of toasted hazelnuts and hit of cinnamon all together in each mouthful? Heavenly.
A perfect, perfect dessert whether it's just family or if you are entertaining. Have you made panna cotta before? If you haven't heard of it you haven't been watching My Kitchen Rules because there was a plethora of panna cotta served up on the series which probably has most people thinking it's a tricky process. Well I'm here to tell you that it is the opposite of difficult.
Seriously – all you do to make panna cotta of any flavour is warm some milk, cream and sugar together with whatever flavour you want to infuse it with (vanilla bean, chocolate, espresso) and add some soaked gelatine leaves. Stir, pour into moulds and pop into the fridge. You can serve it still in the moulds or you can pop them onto plates and use your imagination to decorate.
The best way to get them out is to take them out of the fridge about 15 minutes before you are ready to serve, then invert them and give them a little shake. If they're being stubborn, pop the moulds quickly into a pan of hot water and that should do the trick.
The brittle is just a simple caramel brittle with the addition of some toasted nuts and cinnamon. If you're not keen on hazelnuts substitute these for any nuts you like; macadamias, pecans, peanuts etc.
Adapted from Gordon Ramsay's Ultimate Home Cooking
Espresso Panna Cotta with Hazelnut and Cinnamon Brittle Recipe
Ingredients
3 sheets of leaf gelatine
400ml double cream
75ml whole milk
100g caster sugar
50ml espresso (or 1 1/2 tbsp. coffee granules dissolved in 50ml boiling water)
Brittle
50g blanched hazelnuts (or almonds, pecans or macadamias)
200g caster sugar
2 tbsp. water
1 tsp ground cinnamon
Instructions
Place the gelatine leaves in a bowl with cold water and allow to sit for 5-10 minutes.
Put the cream, milk, sugar and coffee into a small saucepan. Bring to a simmer over a medium heat. Remove from heat.
Squeeze as much water as you can from the gelatin leaves and add to the cream mixture. Whisk until completely dissolved then strain the mixture into a jug to pour.
Rinse 4 x 175ml moulds or ramekins with cold water (this will make it easier to turn them out) but don't dry them.
Pour the mixture into the ramekins and place in the fridge to set for several hours or overnight.
Brittle
Put the nuts on a baking tray and bake for 10 minutes or until golden.
Lay another baking tray with non-stick baking paper.
Put the sugar and water in a medium saucepan or fry pan over high heat. Swirl the pan occasionally (but do not stir) to ensure the sugar melts and cooks evenly. Once it is dark golden, add the nuts and cinnamon, swirl to combine then tip onto the baking Tray. Set aside until completely hard then break into shards.
To serve:
Dip the moulds into boiling water for 5 seconds. Place a plate over each one, and holding tightly, invert both, giving the mould a little shake.
Serve with the brittle.
https://mumslounge.com.au/lifestyle/food/espresso-panna-cotta-hazelnut-cinnamon-brittle/