Meatballs with Mushroom Gravy Recipe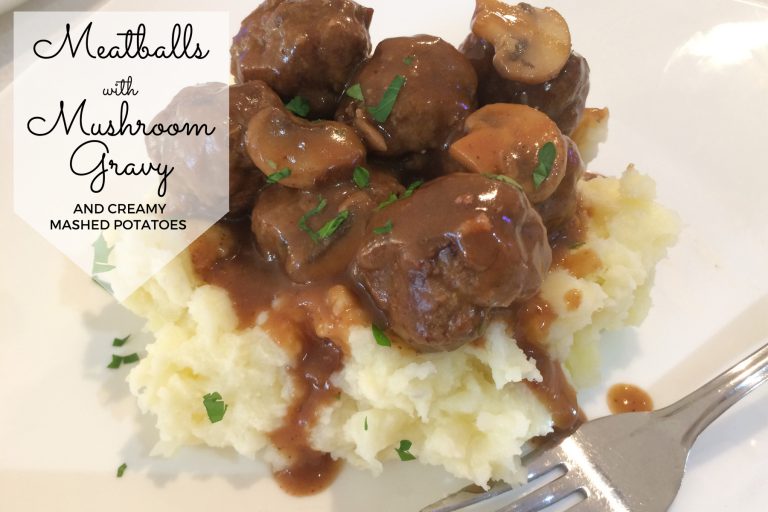 Meatballs with Mushroom Gravy Recipe
It seems that just about every week I pick up a kilo of mince from the supermarket without a plan for it. Maybe I'll make spaghetti bol? Perhaps it will be curried or savoury mince? Maybe I'll get bored with our standard fare and find something new? But what? Everything looks like the same old boring stuff.  Then I found these amazing meatballs with a delicious mushroom gravy! Whooo boy! These are a game changer!
Little balls of seasoned mince swimming in a rich garlicky mushroom gravy sitting on a bed of creamy mashed potato? YES PLEASE!!
And this recipe really isn't hard to make. Make meatballs, make gravy, combine. Serve with mash. Okay, well perhaps there's a little more to it than that. Let me show you how.
First up, the delicious little meatballs. Here is what you'll need.
One kilo of beef mince. If you're a smaller family, still make the recipe using one kilo, don't halve it. You can freeze the cooked meatballs for another meal. You can even freeze them raw if you evenly space them on an oven tray and freeze them laying flat, then when frozen, just pop them in a bag and return to the freezer.
Also, you'll need some breadcrumbs, Italian herbs, onion powder and garlic powder (perfect for onion-phobic children!), an egg (not pictured, forgot), Worcestershire sauce and salt and pepper. Combine all your meatball ingredients, mix well and roll into 3cm wide balls.
Brown them in a frying pan and remove to a plate. Then add a little oil to the pan and in with the mushrooms and garlic. Cook them for a few minutes until golden then take them out and add them to the meatballs on the plate.
Here's what you'll need for the gravy.
Not much really – the olive oil, mushrooms and garlic as already discussed, then some butter, flour, beef stock cubes (or beef stock), fresh parsley (optional), more Worcestershire sauce and salt and pepper.
Melt the butter in the same frying pan and add the flour. Whisk them together and cook for a few minutes. Then slowly add the beef stock and Worcestershire sauce, whisking constantly to combine. Bring it to the boil and simmer until it thickens slightly. Then return the meatballs and mushrooms to the pan and stir to combine. Allow to cook for another 10 minutes.
Serve with creamy mashed potatoes and enjoy!
Meatballs with Mushroom Gravy
Ingredients
For the meatballs:
1kg beef mince
3/4 cup breadcrumbs
1/2 tsp onion powder
1/2 tsp garlic powder
2 tsp Italian herbs
2 tbsp Worcestershire sauce
1 egg
Salt and pepper
For the sauce:
2 tbsp olive oil
200g mushrooms, sliced
2 garlic cloves, crushed
50g butter
3 tbsp plain flour
3 cups beef stock
1 tbsp Worcestershire sauce
Salt and pepper to taste
2 tbsp fresh chopped parsley
Mashed potatoes to serve
Instructions
In a large bowl, mix together all of the meatballs ingredients until well combined. Shape the mixture into 3cm round meatballs and place onto a plate.
In a large frying pan, heat 1 tablespoon of olive oil over medium high heat. Place the meatballs in one layer in the pan and brown on all sides, tossing or turning with tongs. Remove to a plate.
Add the remaining tablespoon of oil into the same pan and add the mushrooms and garlic. Cook, stirring for 3 minutes or until golden and cooked through. Remove to the meatballs plate.
In the same pan, melt the butter and add the flour. Stir to combine and cook for 2 minutes. Slowly pour in the stock while stirring constantly. Season with salt and pepper and add the Worcestershire sauce. Bring to the boil while whisking frequently.
Add browned meatballs and mushrooms and cook for an additional 10 minutes. If the gravy thickens too much, add a little bit of water or stock. Add salt and pepper and sprinkle with fresh parsley. Serve with creamy mashed potatoes.
https://mumslounge.com.au/lifestyle/food/meatballs-mushroom-gravy-recipe/