Smoky Chilli Cheese Dip Recipe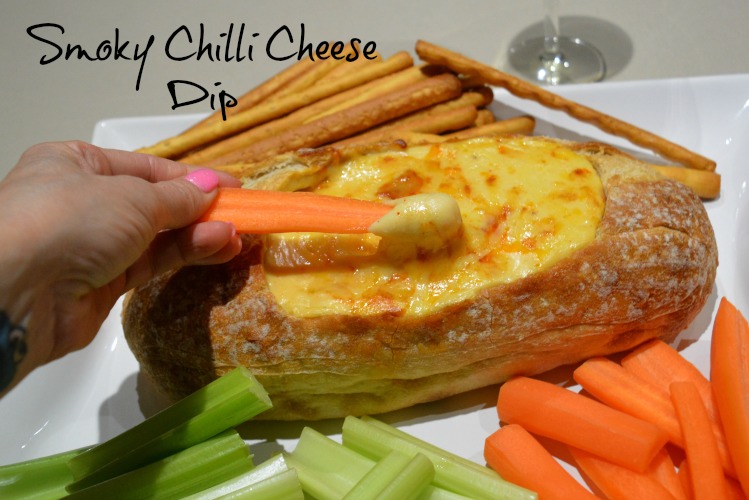 Smoky Chilli Cheese Dip Recipe
Last Saturday it was freezing cold; drizzling rain and windy. We lit the fire in our outdoor room and pulled down all the blinds to get it nice and cozy before our friends came over for dinner. And while that fire was cranking I put together this Smoky Chilli Cheese Dip.
It was the perfect weather for something hot and rich and decadent. You know how we usually just put out some store-bought dip, some cheese and crackers and maybe some cabanossi when friends come over to snack on before dinner? Well I wanted something way better. And this was it.
And I love how rustic it looks in a hollowed out loaf of bread. Any bread will do – this one happened to be a sourdough loaf which is particularly sturdy.
You can really use any sort of cheese you like but I wanted a smoky flavour and I chose some Applewood Smoked Cheddar from the cheese section in Coles. It's just a simple white sauce (or roux) then in goes the cheese and to kick it up a notch I added some chilli powder and Tabasco sauce. If you're not a fan of spicy you can leave that out and if you can't find smoked cheese, add some smoked paprika to whatever sort of cheese you do use.  This would be super delicious poured over steamed vegetables, baked potatoes or on top of loaded nachos too!
Oh, and of course you can make this ahead of time. Just pop it in a bowl in the fridge and then scoop it into the bread about half an hour to 45 minutes before your guests arrive. The bowl is a good insulator so it does take time to get hot in the centre but that's OK, you can keep poking your finger in to test it! Yum!
Smoky Chilli Cheese Dip Recipe
Ingredients
2 tbsp. plain flour
2 tbsp. butter
1 1/2 cups milk
200g smoky cheese, reserving a little
2 tsp Tabasco sauce
1/4 - 1/2 tsp chilli powder or to taste
salt and pepper
small sourdough loaf of bread
carrot and celery sticks & crackers to serve
Instructions
Melt the butter with the flour over medium heat in a medium saucepan. Cook, stirring with a wooden spoon for a minute.
Gradually add the milk, a tablespoon at a time to start off with and stir into the mixture until smooth.
Cook, stirring constantly until thickened.
Add the cheese, tabasco, chilli powder, salt and pepper to taste and stir until melted.
Transfer to a bowl and refrigerate until ready to serve.
Pre-heat oven to 180C/160C fan-forced/350F.
Scoop out the centre of the bread loaf and fill with the cheese dip. Sprinkle the reserved cheese over the top and bake for approximately half an hour or until melted and hot in the centre.
Serve immediately with the vegetable sticks, crackers and scooped out bread bits.
https://mumslounge.com.au/lifestyle/food/smoky-chilli-cheese-dip/