Tarot Reading – Are You Listening to Your Intuition?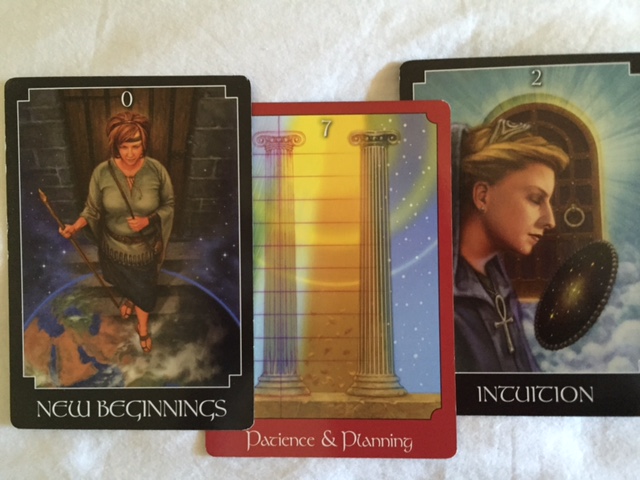 Intuition features pretty highly in this week's spread, maybe if it had been in last week's reading Kim Kardashian might have used hers & not attempted to take a toddler to Fashion Week! Doesn't take a huge amount of psychic skill to know that a baby would rather be at home finger painting, silly Kimmy.
NEW BEGINNINGS
This leads on from the themes of the last weeks quite well, it bodes of taking a first step into the unknown. You have new adventures awaiting you but you need to take the first step & that can often be the hardest one to take. You need to let go of what others think is right for you, let go of your own self-limiting beliefs & take that leap of faith. Life is calling you to propel yourself onto a fresh & positive path.
PATIENCE & PLANNING
This card is an odd one today because it totally contradicts the first….whereas I have just asked you to take a leap of faith you are now being advised to sit back & consider your options, review your life decisions, ask yourself "what do I really want?" really plan your next step. The link is that this card also asks you to tap into your inner guidance, ignore the constant suggestions from those around you & do what you know to be right for you.
INTUITION
This card makes sense! It actually relates to the first two. Intuition is like a muscle, the more you exercise it the bigger & better it gets. Now is the time for you to flex your intuitive muscle, watch for the synchronicities & coincidences that appear around you, pay attention. Intuition is the language of the soul, it is how we communicate to the Source & how we recognise the divine in each other. Turning inward & really listening to your intuition will help you on the path ahead, it will guide you & show you the truth.
SUMMARY
There is a fair bit of contradiction in these cards, I seriously cannot make this stuff up, if I did I certainly would not have chosen one of these cards, the second card is the cat among the pigeons this week. The linking theme is one of intuition & trusting your inner guidance. The intuition muscle can be trained through meditation, finding that inner stillness. Sometimes it is very hard to listen to that inner voice, we are so busy & there is so much going on around us, so learn to pay attention to your dreams, they can hold the answers.
For a personal reading please contact me on [email protected] or join my growing positive community on www.facebook.com/HomeHealingSouthAustralia .
I have also started blogging about trying to live a more Spiritual life while still dealing with the day to day.
http://homehealinglifehealing.blogspot.com.au\