Tarot Reading: Destiny, Truth and Achievements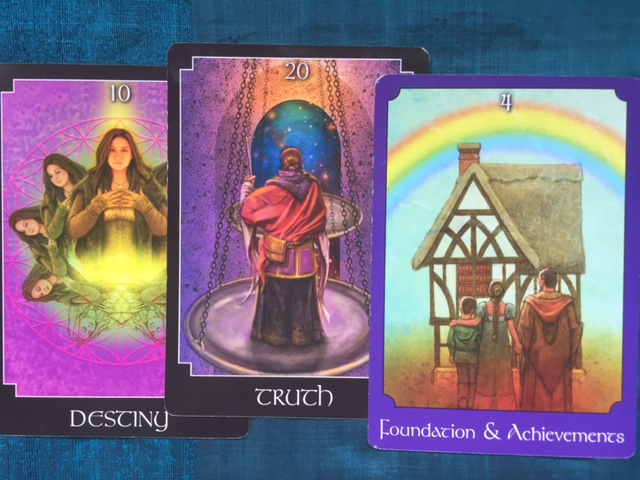 A week when those positive affirmations bring great opportunities.
DESTINY
In traditional tarot this is the Wheel of Fortune card, it reminds us that all in life is cyclic, the Karmic wheel is always turning. Now is the time when Lady Luck is pointing at you, this is a time for change, success & growth, new & exciting opportunities are knocking at your door. All problems are being replaced with solutions but you need to play a part in this, keeping a positive mind-set & affirmations will keep the good energy flowing. When you believe in happiness, prosperity & abundance you can create that. This card tells us that positive opportunities are abundant but it is always up to the individual to take advantage of them. So while Lady Luck is shining on you seize the day because that wheel always turns.
TRUTH
Such a deeply Spiritual card, it speaks of awakening, clarity & the revelation of truths, this card can bring a bit of a "wake-up call", which can be startling. The truth card tells us that it is time to consider making big changes to our lives, not in a hasty way but making well weighed out, considered decisions. Be honest with yourself about what isn't really working for you & how you can move forward in the best way possible. Being truly honest with ourselves can sometimes be hard but this card presents today to tell us that we will be shown the truth, deal with it with understanding & forgiveness so that you can move forward with peace & balance.
FOUNDATION & ACHIEVEMENTS
This card represents a time of peace & prosperity, take time to relax & celebrate. This can sometimes signify a marriage or the buying of a home. It tells you that what you have been building is now well established & has a good solid base. As with the Destiny card remember that nothing is stagnant, change is the only constant in life.
SUMMARY
What a powerful trio this week, both the Destiny & Foundation & Achievements cards speak of the Wheel of Fortune, of the constant ebb & flow of life, the ups & downs. Both tell us that things are great right now, Lady Luck pointing at us, opportunities abound & all is wonderful & prosperous. The Truth card is always confronting, we are being advised to make well considered decisions in our lives. All together they speak of positive change, so long as we keep a positive attitude & move forward with love & forgiveness.
For a personal reading please contact me on [email protected] or join my growing positive community on www.facebook.com/HomeHealingSouthAustralia .
I also write a weekly blog about trying to live a more spiritually connected life while still dealing with the day to day.