Tarot Reading – Your New Year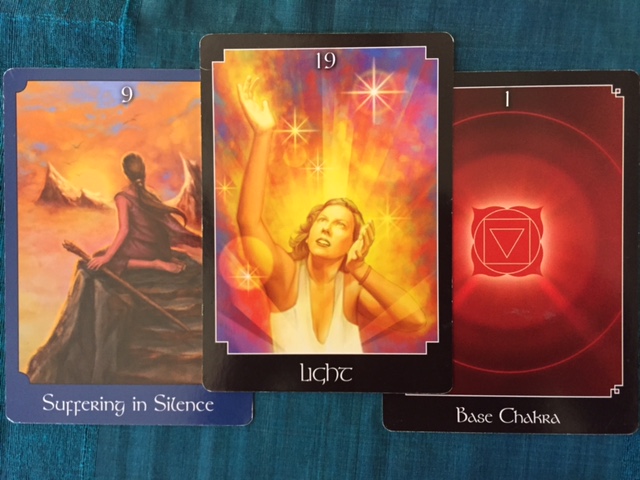 This Week's Tarot Reading – and Your New Year Ahead
As we approach the end of the year this week rather than commit to resolutions that we never keep, why not just commit to moving forward into 2015, blessing the lessons, being grateful for the joy & leaving the pain in the past.
SUFFERING IN SILENCE
The number 9 denotes completion, which is perfect for the end of the year.
You are now ready to let go of all the limiting self-beliefs that you have allowed to hold you back, release all those issues that have far too much influence over you. Letting go of worry, despair & hopelessness will reveal a new positive path awaiting you.
This card asks you to take the first steps towards healing, don't suffer in silence, there is help around you, you have the ability to start the new year afresh, you just have to make the decision to let go.
LIGHT
Such a beautiful card & the perfect card for finishing up the year. This card is all about stepping from the darkness into the light. It speaks of happiness, contentment, success, joy & illumination. Light brings a renewal of life, step into the light, feel its warmth.
The light will illuminate the paths ahead that were previously unseen. Keeping a positive mindset, focusing of happiness & joyous memories then that light will keep shining on the future & you will be able to find your way.
BASE CHAKRA
This Chakra card deals with basic needs of shelter, food, safely, all those earthly issues.
Focus on what we already have rather than what we want or think we need. This card asks us honour our bodies. Using an exercise like yoga keeps our body & soul in balance.
SUMMARY
The Suffering in Silence & Light cards are the perfect pair to follow each other & to finish the year on. It is always vital to let go of pain & the self-beliefs that we all allow to hold us back, sometimes we just need to know that we are not alone. Releasing the difficulties of this past year (& it has been a shocker for a lot of people!) will help you move into a great 2015. New paths & possibilities lie ahead, we need to use the light to see them more clearly. The upcoming year will be a great one, there is amazing energy around for us all but clearing & releasing the past is vital to move forward.
Enjoy you New Year's Eve, shake off the past & leap into the light! xx
For a personal reading please contact me on [email protected] or join my growing positive community on www.facebook.com/HomeHealingSouthAustralia .
I have also started blogging about trying to live a more Spiritual life while still dealing with the day to day, because who has time to sit on a mountain & mediate? Really!