Tarot Reading – Obstacles and Challenges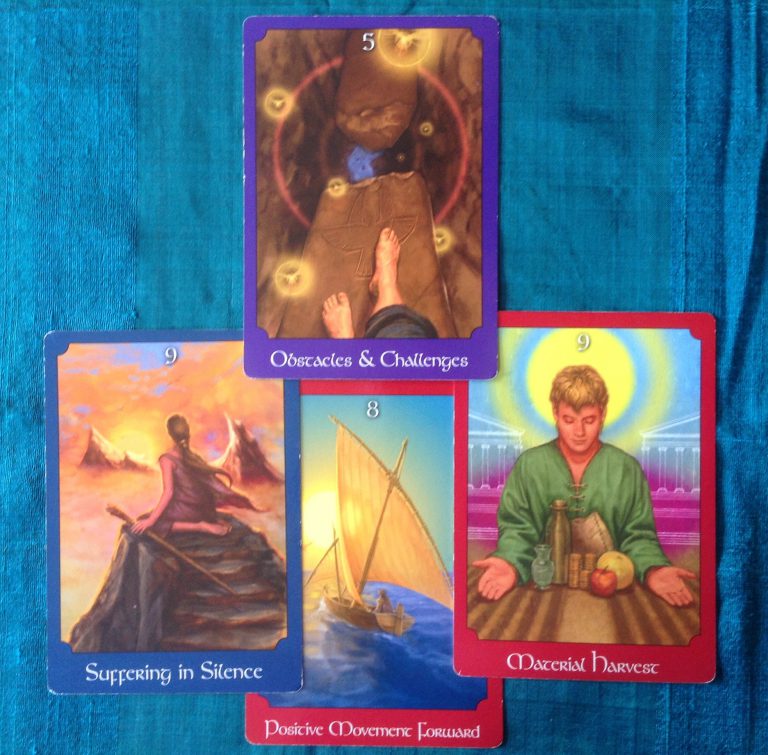 I usually pull out 3 cards for the weekly reading but an extra appeared today, there is always a reason for that!
SUFFERING IN SILENCE
This card asks us to let go of those self-imposed, negative & limiting beliefs we have about ourselves. It is time to stop making mountains out of molehills. Time to let go of worry, despair & hopelessness. It is impossible to see a happy future when you are caught up in negativity that you believe is all around you. You can simply choose to be happy; you can choose to believe in a beautiful future. This card asks you to take the first step away from misery, take action & stop sitting alone silently worrying about something that may never happen. Stop suffering in silence, talk to others, express your fears, your doubts, there are plenty of people around you who care & are ready to listen & help.
OBSTACLES & CHALLENGES
Obstacles, power struggles & challenges must be face in order to overcome them. This is a time to take a step back from the mayhem around you, get a little clarity, consider the lessons you have learnt & use them to see a path forward. You have gained enough life experience & have the understanding to move through a difficult period. Every experience has a lesson in it for us & I am a big believer in blessing the lesson rather than letting ourselves feel defeated by it.
POSITIVE MOVEMENT FORWARD
(The number 8 always denotes prosperity & abundance.)
This card often appears for people who work in a an artistic field, music, design or drama. This is all about the result of your hard work, you have had the wisdom to follow your passion, when you do this your soul soars & you move closer to your highest good. When we follow our passion we manifest opportunities & there are many out there ready to come to you, be sure you see them.
MATERIAL HARVEST
This card carries the message that you will reap what you sow & now is the time to bring in the harvest! The last of the physical cards denotes self-mastery, self-sufficiency & independence. You have worked hard, you have learnt the lessons & you can now benefit from your endeavours.
The number 9 cards also denote completion, you are ready to move onto the next stage, what else is on your list, what do you want to achieve? Ask for new opportunities to appear because now is the time to start on the next chapter.
SUMMARY
That extra card this week seems to have bought balance to this week's reading. The first two cards speak of challenges & getting too caught up in our own despair to see the paths in front of us. The second 2 cards are both from the red, material/physical section of the deck, they both speak of positivity & abundance. So by learning the lessons from the first 2 cards we can move into a wonderful positive space filled with happiness & opportunities.
For a personal reading please contact me on [email protected] or join my growing positive community on Facebook. I have also started blogging about trying to live a more Spiritual life while still dealing with the day to day, because who has time to sit on a mountain & mediate?