Tarot Reading: Patience and Planning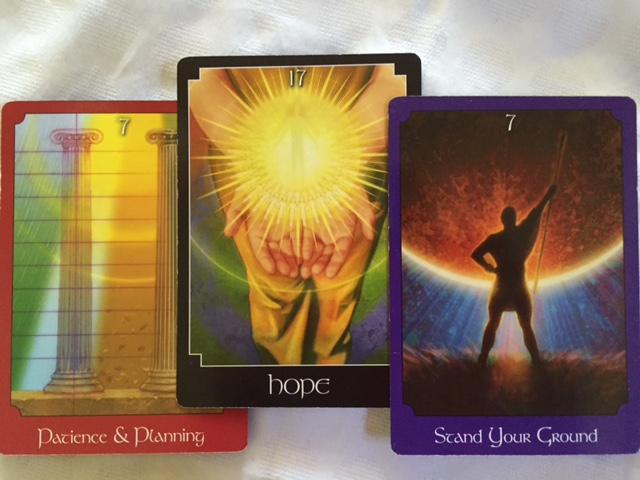 A lot of 7's here this week, the number seven signifies spirituality, inner awareness, insight & success, I love all of that!
PATIENCE & PLANNING
This card is asking you to let go of control, just sit, be patient, pause & allow things to unfold. Take this time to re-assess your goals, be they financial or relationships, planning for a successful future takes time & care. As you are in reflective mode recall what has worked well for you in the past, use those experiences to plan how you may handle potentially difficult situations that may arise in your future. Be prepared.
HOPE
This card focuses on the qualities of faith, hope, success & enlightenment; it is an absolutely wonderful card. It is about keeping hope alive, being positive & inspiring others. This card reminds us that the impossible can indeed become possible, it is all up to you & the power of belief.
The Hope card asks us to maintain a positive attitude, believe in ourselves & our abilities to achieve our goals. A wish you have made is coming into being because you believe in it. Keeping positive gives your soul the power to soar!
STAND YOUR GROUND
This card often appears when you are facing competition & challenges. Know that you have the strength to prevail & succeed, stand your ground, remain solid & strong in your beliefs. Keep your focus & do not give up on your dreams. While this card speaks of difficult times you must remain true to yourself & in doing so you will succeed.
SUMMARY
What a week! With Light being the major card last week the momentum keep up with the beautiful Hope card appearing for us this week. The cards are asking us to pause & plan, there may be some rocky roads ahead but a positive attitude keeps us moving, the power of positivity cannot be overrated. Hope will keep you strong when times are tough, keeping hope alive is the key to all success.
For a personal reading please contact me on [email protected] or join my growing positive community on Home Healing South Australia Facebook Page .
I have also started blogging about trying to live a more Spiritual life while still dealing with the day to day, because who has time to sit on a mountain & mediate?