Tarot Reading: Shine, Shine, Shine!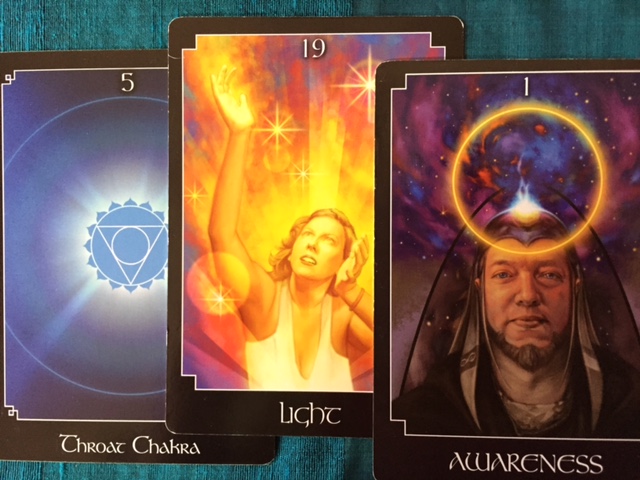 This Week's Tarot Reading
In the words of my favourite celebrity psychic "SHINE, SHINE, SHINE"!
THROAT CHAKRA
Again?! Who hasn't been speaking up when they should have? Silence may be golden but sometimes speaking your truth is vital. Find a way to express your feelings, let your heart's desire be spoken. Repressing the words of your truth will only lead to discomfort or sometimes illness in the forms of sore throats or hacking coughs. When a card appears repeatedly it is reinforcing the lesson of speaking your truth.
Exercise your Throat Chakra with humming, chanting or singing, & speaking of course, always speakup.
LIGHT
The loveliest & most positive card in the tarot, I love getting this card, it speaks of all the most wonderful things, joy, success, happiness, contentment & illumination. This card asks us to step out into the light, it tells us that it is our time to shine!
This card reminds us to keep our thoughts in a positive place, thinking of happy times in our past & the joy to come. Keeping that positive light around us will encourage others to a more positive path, inner radiance inspires & attracts what your are emanating. Your inner illumination will not only light the path before you but also shine light on truths. Always remember you are not searching for the light at the end of the tunnel, you are the light walking through the tunnel, illuminating the way.
AWARENESS
This is a card that often appears when we are ready to switch direction, start a new project or change jobs. It represents our ability to create our own realities, remember that you are in charge of your own ideas, visualise the future you want & set it in motion. Using positive thoughts, visualisations & affirmations will keep negative thoughts & fears away.
This card reminds us that we already possess all the skills needed to guide & direct our lives. Wisdom, intuition, love & courage, whatever it is we need we already have. By working in harmony with awareness of our own skills & the universe we can manifest change & create new positive outcomes in our lives. Have faith, keep direction, tap into your own skills & call on a little magic from the universe & you can accomplish anything.
SUMMARY
This week looks to be a week of positive energy, of keeping ourselves positive to achieve great outcomes. The throat Chakra card appearing for a second consecutive week is re-enforcing the message of speaking our truth while the cards of Light & Awareness are both very much involved in positive affirmations & visualisation. It looks to be a great week for many with new projects & paths ahead of us. So keep that wonderful light within you shining bright, illuminate the way for others & shine, shine, shine!