Tarot Reading – Stand Your Ground!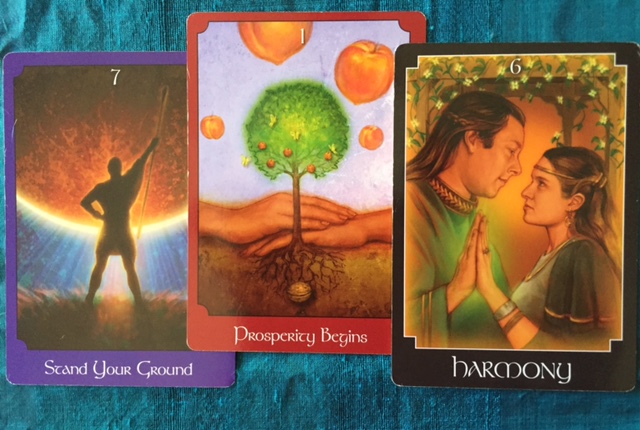 Good Morning Mums Loungers, if this reading is anything to go by (& it is!) we are heading into a fabulous week!
STAND YOUR GROUND
This card often appears when we are feeling tested & challenged. You feel surrounded by rivals & competition but know that you have the inner strength & all the skills you need to prevail. Stand your ground, don't surrender, don't give up control, be true to yourself & know you are right.
Remain clear & focused, look after your health & stay strong there is a long battle ahead but victory is at hand, justice will prevail.
PROSPERITY BEGINS
A brilliant card for anyone who is starting up a new business venture. It speaks of beginnings of wealth & of success, this is more often than not due to your own hard work & efforts. With good & careful planning the ventures you are establishing show great promise for monetary gains.
This is a time to put your positive visualisation skills to good use, meditate on success, see yourself achieving positive outcomes, & feel the prosperity.
HARMONY
A deep spiritual partnership/union is taking place at this time. This isn't necessarily a love affair but can often be a business, organisational or personal relationship. This card asks to look at your relationships, ask yourself questions: what am I learning from this? Is this relationship for my highest good? Are the interactions in this relationship empowering me? Asking these questions can bring you into a more harmonious & understanding state.
SUMMARY
What a week! Obviously the Harmony & Prosperity cards are fabulous, don't we all just see love/money & think YES PLEASE! It is, of course, a little more complex but nevertheless they are great cards especially for those who are starting up a business venture or considering a new relationship. The first card, Stand Your Ground, is a little more challenging but know that you will be fine, you will prevail. This card teamed with Prosperity Begins both speak of the importance of planning & positive visualisation, something very close to my heart & that I practice every day, it works!
Blessings.xxxx
For a personal reading please contact me on [email protected] or join my growing positive community on www.facebook.com/HomeHealingSouthAustralia .
I have also started blogging about trying to live a more Spiritual life while still dealing with the day to day.
http://homehealinglifehealing.blogspot.com.au\