Tarot Reading – Thoughts of an Old Flame?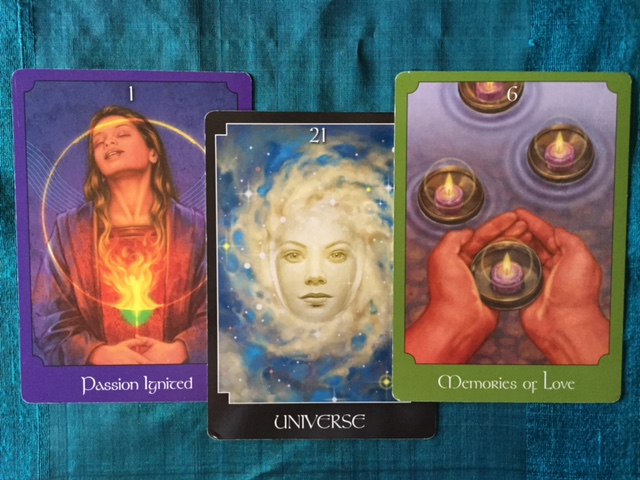 A fantastically positive & energetic reading for this first week of my favourite season. 
PASSION IGNITED
The first card in the Spirit section of the deck tells us that this is the time to let your soul soar. Creativity, enthusiasm &positivity are at an all-time high, that wonderfully invigorating spiritual energy is flowing through you & you are full of energy. Whether you are starting a new project or re-discovering something you have set aside this is a great time for you, enjoy it! Your intuition is very strong right now so pay attention & use it in the most positive way you can, visualise the success you desire & make it happen. This is a wonderful start to the week.
UNIVERSE
This card symbolises peace, completion, triumph & liberation, everything you have worked towards is now within your grasp, just waiting for you to reach out & grab it. This is also a time for you to honour yourself & what you have achieved. Always remember that the same energy that makes up the stars, the earth, the rivers & trees runs through each & every one of us, embrace that connection to the universe, feel the unity. Another wonderfully positive card that speaks of your spiritual connections to the universe.
MEMORIES OF LOVE
This card is likely to appear when an old flame wanders back into our lives. It does not necessarily speak of re-kindling the romance but instead reminds us of what a certain love felt like. What lessons from that past time could you carry through into your present life? You don't need to dwell in the past but rather draw inspiration & happiness from that time to help you now.
SUMMARY
There is fantastic energy this week, all wonderfully positive with amazing beginnings & triumphant completions! Passion Ignited & Universe both speak of incredible spiritual energy, that wonderful love of the universe flowing through us & lifting us up into new & exciting endeavours. Memories of Love is all about bringing love energy back into our lives & using past experiences & feeling to help us in our present.
So it's all about love this week & that is always good!
Blessings.xxx
For a personal reading please contact me on [email protected] or join my growing positive community on www.facebook.com/HomeHealingSouthAustralia .
I also write a weekly blog about trying to live a more spiritually connected life while still dealing with the day to day.
www.homehealinglifehealing.blogspot.com.au