Tarot Reading – Is it Time for a Major Change?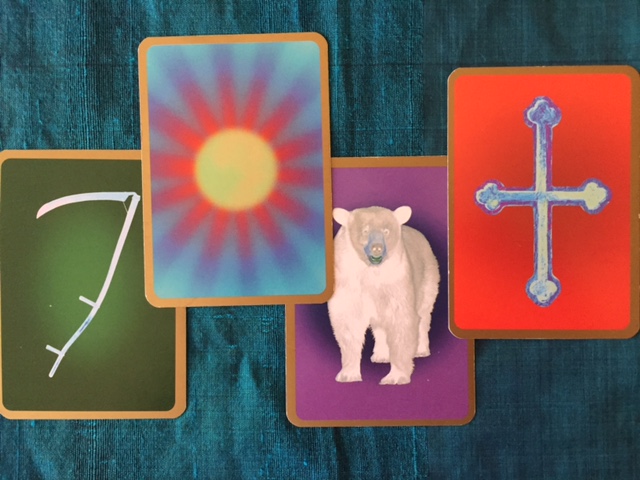 This week I am sticking with the lovely Titania's Fortune Cards, I hope they can offer some guidance to you for the energies around us this week.
SCYTHE
This card is actually not quite as menacing as it appears, especially in this spread as it appears with other very positive cards. It symbolises the cutting of ties, making a decisive break & definitive change. It often appears at a point in life when the questioner must make a decision about their life purpose & future path. As it appears today for us, with the Cross, the change to be made is major, it is a whole change in the way you see & live your life.
SUN
Again….beautifully positioned to remind us that there are optimistic outcomes, the sun bestows simple & beautiful blessings. The sun shines on us & all of our affairs, so enjoy.
BEAR
This is a friendly yet protective creature, he is bold & strong & appears here to ask you to emulate these same qualities. There is a fair bit of change & forward movement around so you need to be strong & bold in your life this week.
CROSS
One of the loveliest cards is this tarot, I love getting this card for myself. It is the card of destiny! It speaks of being protected by higher powers, I just love it, it points to the area's most important in your life, be they family, work or home. This card asks you to trust in your instincts & have faith that all will be well.
SUMMARY
This is a pretty powerful spread this week, the Scythe & the Cross are definitely a dynamic duo. The major decisions that you are making now are for your highest good. Change is not always easy but the outcomes indicated are very positive, if you are following your intuition, being strong & determined in your life purpose then the sun will always shine on your path ahead.
For a personal reading please contact me on [email protected] or join my growing positive community on Facebook.
I have also started blogging about trying to live a more Spiritual life while still dealing with the day to day, because who has time to sit on a mountain & mediate?
www.homehealinglifehealing.blogspot.com.au