Tarot Reading – Transformation & Triumphant Success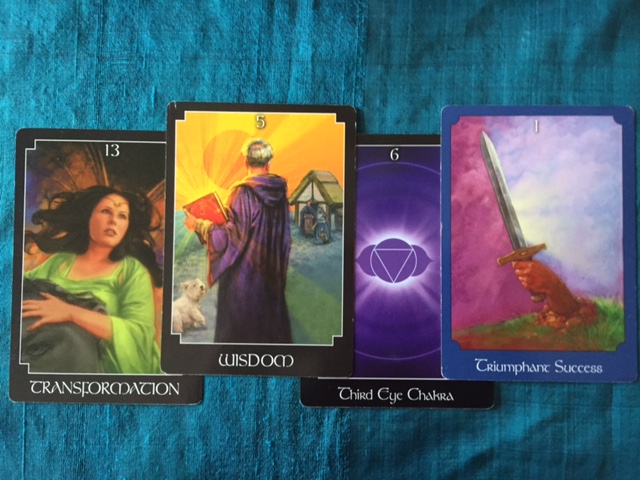 This looks like a great week for personal growth & learning.
TRANSFORMATION
This is a card of endings & of massive changes. It is best not to resist the changes going on around you but to evolve through them, they could be in career, personal life or your relationships. This card tells you that you have the courage to survive & grow in a positive way. The transformation card reminds us that nothing in this life is forever, that change is constant & to move forward & grow we must accept those changes. Some areas of your life need closure for you to start afresh, those areas that feel stagnant or just are not working as you would like may be the areas most in need of transformation, of change & evolution.
WISDOM
When the student is ready the teacher will emerge. This card speaks of a spiritual teacher coming into your life, this is someone with compassion, experience, offering you guidance & inspiration. Perhaps it is time for you to join a group of like-minded people, people with whom you can share & learn with, feedback & encouragement can be great teachers in themselves.
As you learn more & more you too can become that wise & compassionate teacher over time & share your knowledge & love with others.
THIRD EYE CHAKRA
The Chakra of intuition, higher consciousness & clairvoyance. The spot just above you eyes &in between your brows. I can often feel it tingling when I am doing a reading for someone. Having this Chakra in balance can give you access to great insight & the wisdom & love of the universe. Exercise this amazing energy centre with meditation, yoga is also a great form of exercise for all your Chakra points.
TRIUMPHANT SUCCESS
This is a card of new beginnings & exciting challenges. In utilizing your willpower, determination, strength & focus you can achieve triumphant success in many areas of your life. Visualise using that sword to cut through your negative thoughts, don't use the blade in a rash & destructive way but with control.
SUMMARY
I usually have only 3 cards for the week but today another card fell from the deck (Triumphant Success) that is the card that usually ties all the others together & gives us a great message. The very strong cards of Transfomation & Wisdom speak of great change, growth & learning, of emerging from darkness into light & taking new paths. Using & exercising your intuition along with the visualisation from the last card balance the cyclonic ferocity from the first 2 cards. It is an exciting time of change but that does always bring challenges but this is a time to just go with it, accept the ebb & flow of life because you have all the skills & focus to let the changes be for the best.
For a private reading in Adelaide please contact me on [email protected] or join my growing positive community on www.facebook.com/HomeHealingSouthAustralia .
I also write a weekly blog about trying to live a more spiritually connected life while still dealing with the day to day.