Top 3 Tips for Improving Your Child's Diet
Working as a dietitian I get asked by parents over and over again what they can do to improve the health of their children, so here are my top 3 tips:
Set a good example – it doesn't really matter if you tell your child to eat breakfast or eat their greens if you're not eating them yourself. Actions speak louder than words, so practice what you preach.
Encourage your kids to try new foods – Research tells us that children need to develop a taste for new foods. Just because they didn't like it the first time they tried it, doesn't mean that they won't develop a love for it down the track. The key is to make trying new food a fun adventure by encouraging them to try just one mouthful rather than forcing them to eat the whole serving. Like us, if we're forced to do something, we're going to lock our heels in, grit our teeth and argue against doing it again. Try to make trying new foods as fun as possible by growing foods yourself, asking your kids to choose a new food to try at the market, or making a "new foods" book. And, don't forget to verbally reward your children for being brave and trying new food.
Provide a nutritious school lunch – Children consume 50% of their food whilst they're at school, so it's essential that they are getting lots of nutrients. Good nutrition is not only essential for growth and development but research clearly shows us that kids who eat healthily get better grades at school. Aim to include each of the 5 core food groups (grains, fruits, dairy, meat or meat alternatives and vegetables). Avoid processed, pre-packaged food and instead try to choose fresh ingredients and try to include lots of variety, so if there's something that they don't like, there's plenty more to choose for. For example:
Healthy School Lunchbox
·

2 multigrain dry biscuits topped with low fat cheese
Vegie patties – these are great for school lunch boxes as they can be made in advance, frozen and just popped into the lunch box.
Ingredients
·

170g packet dry red lentils
·

1/2 cup wholemeal breadcrumbs
Method
1.Boil a saucepan of water. Add legumes.
2.Cook lentils until soft (approx 30 min), then drain.
3.Mash lentils, then add all other ingredients (except wheatgerm).
4.Roll into balls (approx the size of a golf ball), then squash into patties.
5.Roll patties in wheatgerm.
6.Spray a pan with oil then cook until brown. Flip burgers and cook the other side (or cook them in a George Foreman griller).
7.Cool.
Makes approx. 12. Serves 6.
1105kJ, 5g fat per serve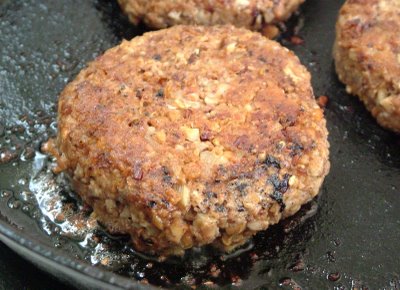 Melanie McGrice, AdvAPD