How to Create a Kids Garden & The Benefits of Outdoor Play for Children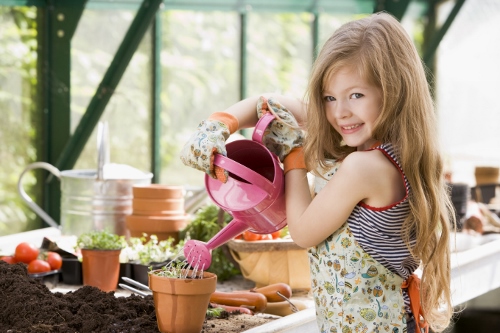 The Benefits of Outdoor Play for Children
While I'm an advocate of teaching children to thrive in a world of gadgets, there is something in a good old fashioned dose of sunshine and fresh air that nurtures and calms the soul. Ipads aside, most children love to be outdoors. There are puddles to jump, dirt to dig and forts to build.
Gardening for kids isn't just about the fun that's to be had, however. There is so much a kid can learn in his own backyard, simply by fostering a love of nature.
Here are just a few of the benefits of introducing your child to the world outside:
Exercise – Children are led by example, and the easiest way to encourage your little ones up and off the couch is to open the door and lead the way!
Science – There is a whole host of topics to choose from when it comes to turning an afternoon outside into a science lesson. From teaching children about the food chain to planting flowers that attract butterflies, nature really is a wonderful classroom
Responsibility – By giving children age appropriate tasks like planting seeds, watering the garden and pulling weeds, children can be taught responsibility in an informal and fun way.
Cause and Effect – The simple act of growing beans can give children a new understanding of cause and effect. If you plant a seed, it will grow. If you forget to water it, it will die.
Understanding – Until young children see a vegetable growing in the ground, many simply don't make the connection between what is on their plate and where it comes from.
Food appreciation – Developing an understanding about how fruit and vege are grown can also encourage fussy eaters to branch out and try new things.
Urban living means that many of us don't live in houses with yards big enough for play, but even the tiniest garden or apartment veranda can lend itself useful for a mini planter or a few herb pots. And since eating seasonal foods and living off the land is suddenly in vogue, you may even find a communal garden right in your own neighbourhood. If not, you could always spend your weekends at a local park, a children's farm or your closest botanical gardens.
Fostering a love of nature and the garden in your child is somewhat simple and easy to do.
Here are my top tips for creating gardens for children:
Give children their own space to tend to and be responsible for. If you have the space, this may be a small patch within the family's garden. Let children choose toys or ornaments to decorate their space and make it inviting and fun.
If you're tight for space, consider a kitchen or veranda garden. Children (and adults) love miniature gardens – the smaller, the better!
Arm children with appropriate tools for their age. There are some great gardening sets for kids that you can pick up for a song, perfectly designed for little hands and much less dangerous than letting your child attempt to use adult sized garden tools.
Let children be involved in choosing what to plant. Children typically love strawberries, tomatoes and pumpkins as they have interesting leaves or vines and make great conversation starters. Cress and beans sprout very quickly – perfect for keeping active imaginations captured.
Select flowers that attract ladybirds, butterflies or insects and regularly send children on a "mission" to see what interesting and new visitors have arrived. Encourage children to inspect the garden with bug catchers, a magnifying glass or a camera.
Finally, enjoy yourselves! It doesn't really matter what you do or plant – as long as you have fun together, you'll be helping to create wonderful memories that both you and your children will look back on in years to come.
Natasha Wilson is a mother of two gorgeous children, an avid crafter and self-confessed hoarder. Author of the craft blog and online store, www.craftylittlegreyfox.com, Natasha features simple projects with gorgeous results – designed for little crafters and their mums to make together.