Gorgeous Ideas for Summer Living Outdoors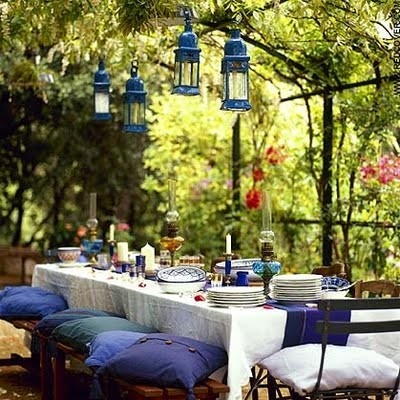 Decorate for Summer
I love summer, not the blinding heat, not the pesky flies, not the way I get burns from my steering wheel but I love the sense of ease, the relaxation, lounging around the pool, I love that the kids will happily eat watermelon from dawn to dusk & they never ask for junk food. My favourite thing in summer to to eat outdoors, salads, BBQ, colourful fruity cocktails & lighting citronella candles to keep away the mozzies.
I don't believe you need to invest $$$$ in outdoor furniture to enjoy the great Australian summer. Don't believe the catalogues, there is no requirement for matching everything, think outside the square & create your own unique style outdoors.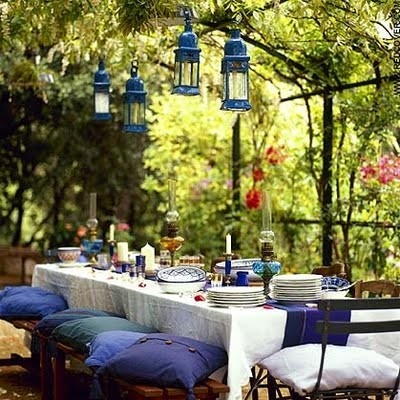 This cool & inviting setting uses several shades of the 1 colour to create a welcoming table, standard indoor plates are used & the blue cushions & lanterns look so pretty & fresh.

Using a bolt of colourful fabric for a tablecloth is a quick & cheap way to dress up any table, I really love the lime green chairs.

This pretty pretty pretty setting looks to have moved the dining room outside & dresses it up with buckets of beautiful blooms.
Lighting is a very important factor, I will always advocate candles, the scented ones keep the mozzies away, they are romantic & (most importantly) everybody looks better in candlelight! I love nothing more than clusters of jars with tea light candles twinkling away, if you are lucky enough to have a lovely big tree try hanging votive from the branches, or turn your umbrella into a makeshift chandelier.

I will always advocate the use of colour, outside is no exception, try painting stair treads a bright colour, alternatively there are many beautiful outdoor fabrics on the market, if you are handy try making up some
chair cushions or simply hang reams under a standard veranda or make a canopy to create an exotic mood.

If space if difficult consider bench seating, well positioned benches can
add formality & structure to a garden space while doubling up as storage
havens.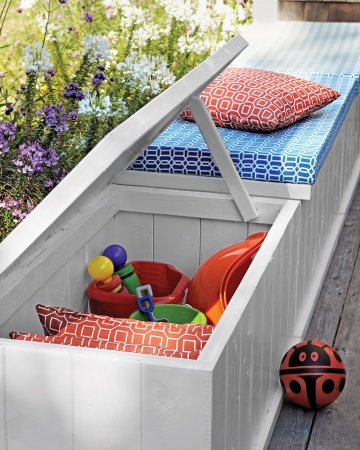 If you want to do give your outdoor space a summer face lift take a look inside, some pieces can take on double duties. If you don't want to move things around have a look at estate auctions, old tables can have a new life outside with a good coat of enamel paint. For sturdy outdoor fabrics try www.fabric.com, make some cushions to give old outdoor chairs a lift.
Australian summers are long & getting longer so enjoy the sunny days & warm nights in your own resort.
Jackie Roper is a full time Mum of 4,(5 if I count my husband, aka: the finance minister), part time colour & decor consultant, blogger & utterly addicted to all things homey. I believe that creating a beautiful home does not come from a catalogue but from the heart, I challenge my readers to step outside the showroom & explore & develop their own style with tips on how to & plenty of inspiration. Because we all need inspiration, everyday!