Anatomy of a Laundry Basket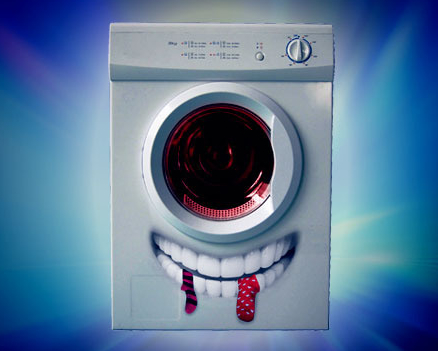 One of the many perplexing questions about life, along with the chicken and the egg conundrum and how the world began, is the missing sock issue.
Where do all those odd socks disappear to?
I've heard on the grapevine that all that lint that you find in your dryer is actually the cremated remains of socks.  I don't know about you but I'm just not comfortable with the idea that my g-strings, jumpers, and jeans are sacrificing the occasional sock to the Lord of the Tumble.
Regardless of the truth, I have a growing pile of socks that have now, sadly, resigned themselves to singledom.
Is it strange to feel sorry for lonely socks?
Could an online sock matching/dating site be the next big thing?
Probably not…but it didn't stop me, yesterday, assigning names to the forlorn socks left at the bottom of my laundry basket…
George Michael
'I'm never gonna dance again'
Aerosmith
'Hole in my soul'
Stevie Wonder
'Hello…Is it me your looking for?'
Madonna
'I'm a material girl.'
Elvis
'I'm left, your right, she's gone.'
Whitney Houston
'I wanna dance with somebody.'
Meatloaf
'Two out of three ain't bad.'
(Come on…I can't be the only one that ends up with three of the same sock!  Three?  FFS!)
Michael Jackson
'It don't matter if your black or white.'
Kylie
'I'm spinning around.'
The sock that somehow always stays in the dryer longer than it should.
And finally Britney…
'Toxic'
(This is generally one of the Woo's socks.  My goodness that boy's feet stink!)
So…that's whose living in my laundry basket this week!  What would you call your socks…y'know…if they could sing?