My Cinderella(ish) Love Story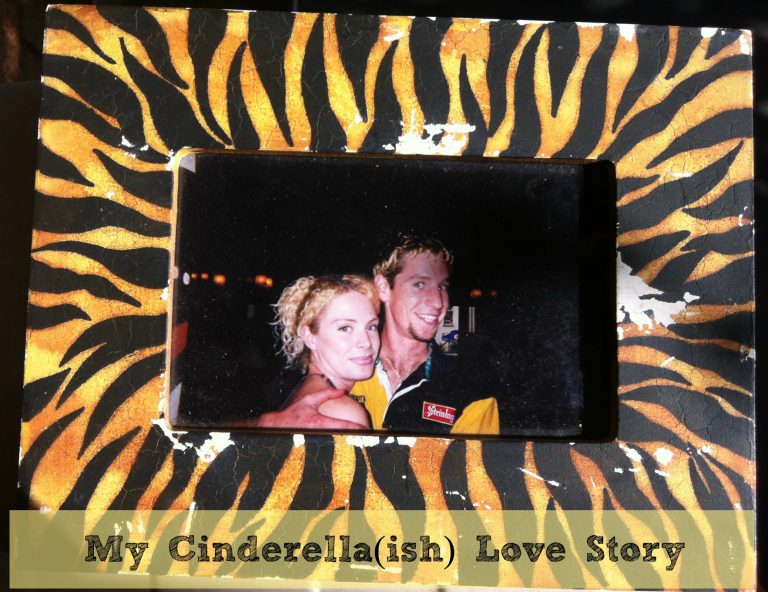 (Don't ya wish your photo frames were hot like mine? bahaha!)
Southampton, England, 2001.
I am sitting at the bar where I work smoking a cigarette.
"What's up?" a girlfriend asks pulling up a stool beside me and giving me a playful nudge.
"Nothin'" I answer, just a bit tired…and hungover."
But the truth is, the day is looming ever closer and I am dreading it. In just a few short days, Greg and I will part ways. He will go back to Australia, and I will leave Southampton and go back to Swansea to finish the last year of my degree. We may have only been together for 4 weeks, but…it just feels kinda right, and something inside of me, isn't ready to accept that maybe somethings are just not meant to be.
"You still sooking 'cos Greg is leaving soon?" asks my boss leaning over the bar with a smirk.
I flash him the death stare thinly disguised as a sarcastic smile.
"Come on, suck it up Princess. It's not like you're ever going to see him again when you both leave, and you'll have forgotten about him in a week or two when you move on to some Uni guy."
Insensitive pig.
I fight my urge to throw my drink at him. He is my boss after all, and I need my holiday pay. Not to mention the fact that it is a snakebite, and it cost me a quid fifty!
But he is wrong. I know he is wrong. I know that I'll see Greg again. Okay, so it may be years down the track, and maybe we'll have met someone else in the interim, but I just know that I will see him again. It's not the end…it can't be.
The dreaded morning comes, and although I am putting on a brave face as we say our goodbyes, I know that my heart will break when I walk away.
I am not much company on the long drive to Swansea.
My best friend Al has kindly offered to drive me, and my belongings, to my shared student accommodation, although under the circumstances I am almost certain that he wished he hadn't. What guy wants to put up with a four hour car ride with a sniffling blubbering wreck?
I look at my watch.
"He'll be getting on the plane now." I say as big fresh tears well in my eyes and drop onto my cheeks.
I can almost hear Al's eyes rolling in his head.
"You'll be kissing someone else next week," he says huffily.
Two days later, my mobile phone rings.
I am walking up the steep hill back to the house I am staying at with my girlfriends, and as I answer the phone and say 'hello' my warm breath makes a misty cloud in the freezing cold air.
"Hey babe," Greg's voice comes back at me.
The smile on my face stretches from ear to ear as I chat away happily to him about the new house, and ask about his flight.
"You left some things in my room at the pub," he says.
"Oh really?" I ask. "What?"
"Um a top, some hair ties, a pair of undies…"
I can hear him grinning.
…and a shoe."
'A shoe?" I ask.
'Yeah. Y'know. Your spice girl shoes – the black platform-type-runner one.'
Oh, that horrible old thing, I think.
"I packed them and brought them with me. And I was thinking," he pauses, "I can either post it all back to you."
I about to tell him not to worry about it, when he says, "or if you can wait three weeks, I'll bring it back."
"Huh?"
I am dumb struck. Did he just say what I thought he said?
"Jolene? Are you still there?"
"Ah….um…yeah."
"So? What do you think?"
"I think I may be able to manage without it for three weeks, but I'd definitely love you to bring it back!"
And the rest, as they say, is history.
Okay, so it wasn't quite a glass slipper (by any stretch of the imagination), and I may have never put that ugly old thing on my foot again, but they'll always be my favourite pair of shoes.
What is the most romantic gesture someone has ever done for you?
Today I am linking up with My Mummy Daze, for her Stories of Me Challenge.  Pop over for some more gorgeous love stories.