Carrie Bickmore uses her Gold Logie win to raise awareness for brain cancer.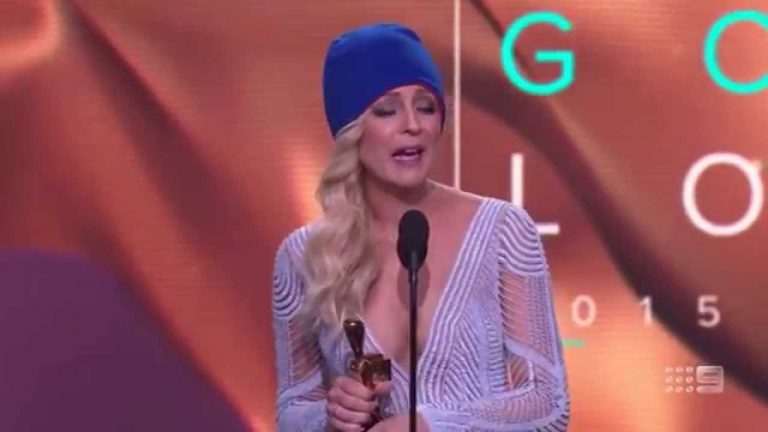 Carrie Bickmore finally won herself a Gold Logie at the TV Week Logie Awards Sunday night.
She had already thanked her supporters when she won the Silver Logie earlier in the night for Most Popular Presenter so she used her two minutes to raise awareness for brain cancer – from which she lost her late husband Greg Lange in 2010.
"Everyone thinks it's this rare form of cancer, it is not. It kills more people under forty than any other cancer –  and that's a lot of you in this room. It kills more kids than any other disease."
"In 2010 my husband Greg was one of the unlucky ones. And after a long, long, long battle he died from brain cancer. Over ten years I watched him suffer multiple seizures a day, lose feeling down one side of his body. Throughout his cancer journey he used to wear a lot of hats – he used to wear a lot of beanies. And that was because he felt embarrassed about his scars and his head. And I used to say to him: 'Don't be embarrassed, scars are really, really cool'. And beanies are also really cool."
She then called on everybody to wear a beanie on Monday, take a photo with the hashtag Beanies For Brain Cancer.
"I want to ask anybody that's on TV in Australia tomorrow to whack on a beanie I want to get the nation talking about brain cancer – it receives next to no funding which is ludicrous. Because without funding more people are going to die and as I just said eight out of 10 people that are diagnosed will die from this disease. So anyone – Sam, Kochie, Karl, Lisa – whoever's on TV tomorrow whack on a beanie if you're going to school tomorrow, kids, put a beanie on. If you're going to work put a beanie on. Take a pic of yourself with the hashtag 'Beanies For Brain Cancer'.
The Royal Baby is here! See the first pictures.
MKR couple Jason and Annie show off their new baby boy
Like What You See? Go HERE for more latest news.