Home and Away Week 1 and 2 SPOILERS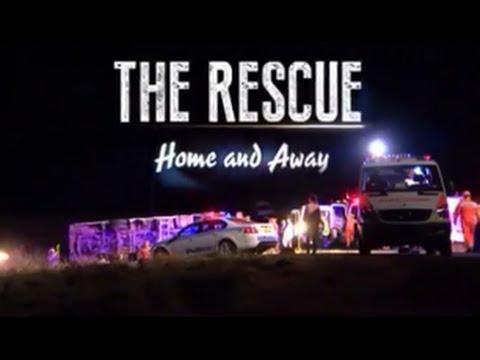 Home and Away returns on Monday, 2nd February and there is one hell of a clean up after the bus crash we saw in the season finale.
Lets recap:
A bunch of Summer Bay favourites are on the bus, with Brax and Josh traveling safely behind the bus waving to their loved ones when all of a sudden, a car containing Dr Nate and his crazy wife Sophie comes head first towards the bus, making it crash and roll.
Image Credit: Beamly
The questions we've been asking – who dies? Who survives? Will Sophie be charged? Will Ricky lose the baby?
If you don't want to know what happens in the first couple of weeks of the show coming back, you need to avert your eyes right now!
Week 1:
The devastation of the bus crash sends shock waves through the bay. Andy and Ash rescue Phoebe from Nieve's assistant. Roo learns that Maddy has run away from the hospital.
Kyle's chances of survival are slim. Someone finds out they will never walk again while another is in a deep coma. Will Sophie hand herself into police?
Andy blows up at Nate when he learns that Sophie caused the accident. Oscar heads to the city to search for Maddy.
Oscar tracks down Maddy in the city. John takes the law into his own hands to teach Jett a lesson. A disturbing video from Phoebe's launch night goes viral on the internet. A new cop arrives in town.
Image Credit: smh
Week 2:
Will Brax take the fall for a murder? John decides that living next to the Braxtons is too dangerous. Hannah finally tells Denny that she may never walk again.
Evelyn finally learns that Hannah may never walk again. Brax and Ash resolve to get a confession from Sam. Jett is devastated that John is considering selling the house.
Sasha receives an offer for her first choice of university, while Matt fails to get any offers. Zac and VJ learn some devastating news about Leah's prognosis.
Maddy finally decides its time to return to Summer Bay and Irene is terrified of losing Leah. In the wake of the catastrophic news about Leah, the community gathers to support Zac and VJ.
Image Credit: DailyMail
What are your thoughts?
What could possibly be wrong with Leah? Will Brax be put away for murder? Will Hannah ever be able to walk again?
Tune into Home and Away when it returns on Monday, February 2nd at 7:30pm on Channel 7.