Katy Perry Smashes Her Performance at the Super Bowl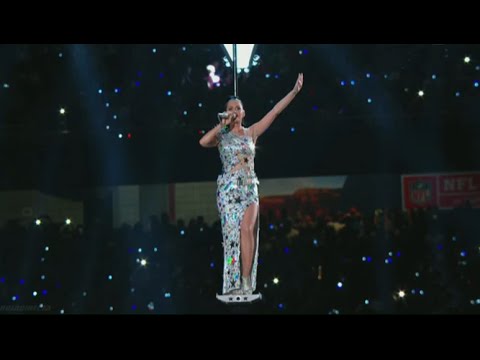 Katy Perry rocked the Super Bowl XLIX halftime show with a medley of her songs and appearances by Lenny Kravitz and Missy Elliot.
She rode out onto the field on a giant prism metal tiger while singing her song,' Roar' and then transitioned into her hit single 'Dark Horse'.
Image Credit: us weekly
Lenny Kravitz then joined her on stage to sign 'I Kissed A Girl' before she did her first outfit and stage change.
Next up was a beachy, bubbly stage with Katy dressed in a yellow blue and red striped crop top and matching skirt to sing 'Teenage Dream'. Following that, the crowd joined her in singing California Gurls, unfortunately with no Snoop Dogg joining her!
Image Credit: us weekly
Missy Elliott then ROCKED the stage with her 2001 hit 'Get Your Freak On' and then Katy Perry joined her on stage in a sequinned black hoodie sweatshirt for 'Lose Control.
Image Credit: us weekly
She ended her show with an amazing performance of 'Firework'. She wore a silver dress covered in stars and soared over the field on a shooting star while fireworks shot off around her and lit up the stadium.