Let us introduce you to the new House Rules contestants.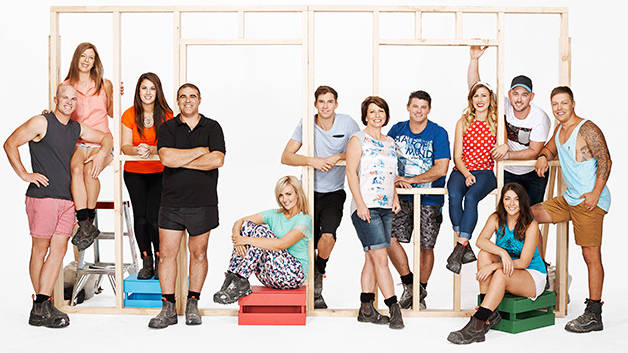 The second season of House Rules returns to our screens tonight, let's meet the contestants.
WA's Karina and Brian are a couple from Geraldton. They renovated Karina's first home she had when they met and are currently struggling to pay the mortgage and renovate their current home at the same time. "Brian had grand dreams for the house but I knew we would never be able to afford to do it justice because our mortgage was too high," explains Karina. "So to help realise his dreams I entered us into House Rules."
Bronik and Corinne are a Melbourne couple who got talked into joining the show by Bronik's Mum. "We bought the worst house on the best street," said Corrine. "Bronik's mum tells us all the time 'we are what this show is all about. A young in love couple who are working hard to pay the mortgage." Bronik is a carpenter – the only tradesperson in the competition. Will that give them the upper hand?
Tasmania's Cassie and Matt brought a house in Hobart together, but have little experience in renovating! Cassie said, "We bought our house to renovate ourselves and learn as we go but saw House Rules as an opportunity for us to learn a lot and have some fun."
Dad and daughter duo Steve and Tiana from NSW are very close – Tiana's Mother passed away when she was young and they say the show will be something they can be proud of. "It's important for me to have this house renovated for dad because he's sacrificed so much for myself and my brother growing up," added Tiana. This is an opportunity for him to get what he deserves."
Firefighter Ben and Town Planner Danielle from QLD are newlyweds who want to succeed on the show to pursue their dreams. "We could do so many things that we may never get the chance to do," says Ben. "The financial pressure would be off so Danielle could pursue being an artist which has always been her dream."
Ryan and Marlee are a defacto couple from Adelaide. Marlee says Ryan is a hard worker. "He works so hard to just keep his head above water," Marlee says. "He works two jobs to pay his mortgage and still finds an hour a day to spend time with me even if he has only had two hours sleep."
House Rules kicks off tonight from 7:30pm on Channel 7.
Will and Steve win My Kitchen Rules
William and Kate reveal the name of the new Princess
MKR's Jac and Shaz's hissy-fit
Like What You See? Go HERE for more latest news.