Loved up Tim and Anna Head into the jungle on I'm A Celebrity.. Get Me Out Of Here!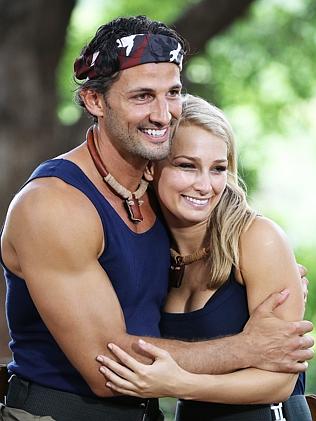 If you watched the show last night, you would have seen the original 'The Bachelor' couple Tim Robards and Anna Heinrich enter the jungle.
Before they headed to camp, they had to do their first tucker challenge which involved pulling 11 stars out of a container filled with around 30 snakes.
They succeeded, which meant 11 meals for them and their camp mates.
Their arrival into camp wasnt met with much enthusiasm, especially from former Hi 5 member Lauren Brant.
"It's very interesting for two reasons," she said.
"First of all, they're a couple — that's a massive advantage. The other thing, which is huge, is that they've been watching the show before they came in."
Image Credit: The Daily Telegraph
Being a fit couple, Tim and Anna are used to training every day and eating well, which they wont have much luck doing in camp.
"I want to try to do a bit of training each day and maybe I can motivate some of the others a bit. Already they look to be spending a lot of time laying around and sitting down — let's get those energy levels up a bit and get them moving," Tim said.