Maureen McCormick's awkward kiss with Anna Heinrich on I'm A Celebrity…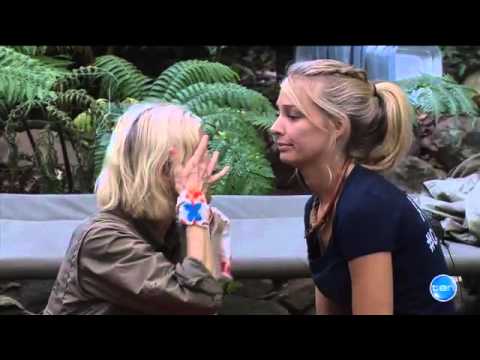 It seems as though being away from loved ones has made some of the starson I'm A Celebrity… Get Me Out Of Here feel a little hot under the collar – one in particular!
The beautiful Anna Heinrich – partner of the first Bachelor Tim Robards – was doing some tweezing on Maureen McCormick's eyebrows in camp.
Once they were done, she tried to plant a kiss on Anna's lips not once, not twice, but THREE times!
Anna gracefully turned her head to the side each time so that the kiss landed on her cheek but you could see just how awkward Anna was feeling about the exchange.
Anna is slowly becoming a front runner to win the show. She was devastated when Tim was evicted last week, but has shown some guts and has been strong without him. She endured a horrible tucker trial where she ate maggot pizza, pig testicles and drank a concoction of fish guts and goats milk.