Michael Klim Opens up About Marriage Rumours and What Works for his Family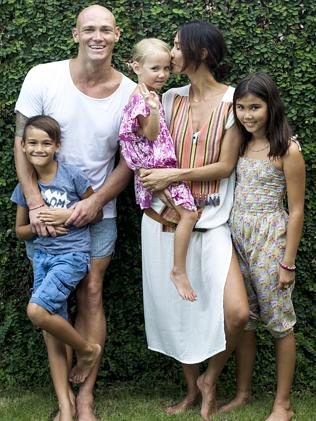 There has been a lot of speculation regarding former Olympic Swimmer Michael Klim's marriage lately and he has opened up about what works for him and his family.
Michael and his wife Lindy spend their time between Sydney, Melbourne and Bali – where their three kids Stella, 9, Rocco, 7, and Frankie, 4 – go to school.
"It is definitely, I guess, a new way of doing things and it depends what is on but normally it is two weeks on and two weeks off kind of thing," Michael told The Sunday Telegraph.
Lindy added: "There's no real rhyme or reason. It's good for us in that we get a lot of work done and have some family time as well."
Image Credit: Daily Telegraph
The couple run a beauty business for men and women called Milk & Co and it's head office is in Melbourne.
"We are in the office all of us together every now and then but really the main thing is with technology you can do conference calls and Skype and it is pretty easy to get things done," Michael said.
"Some people like the traditional face-to-face but we have a pretty young progressive team that is happy to work with us this way."
First official portraits of Prince George and Princess Charlotte
The cast of Entourage play Never Have I Ever