Mum of Three Gives Shout out to All Mums With Messy Cars – You're Not Alone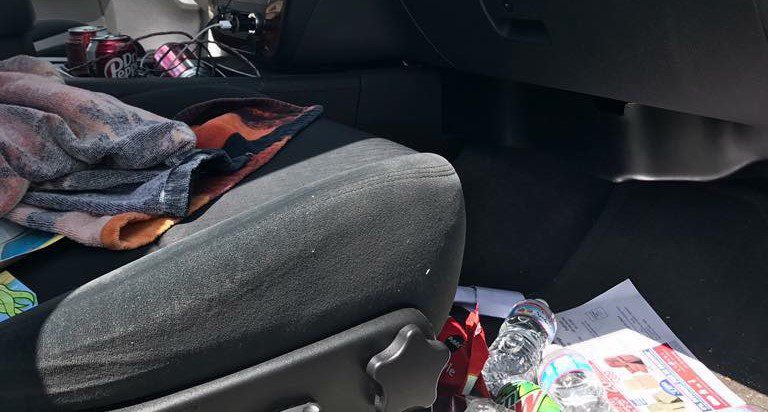 Mum of Three Gives Shout out to All Mums With Messy Cars – You're Not Alone
Having kids is messy business. And loud too. Loud and messy, all the time. It's kind of a universal truth that we've all just accepted, shrugged off, and made the best of. There are kid-related messes in the house, garage, yard and in the car, always.
One mum from Florida in the US has shared a photo of her messy car that is quickly going viral as mums everywhere relate wholeheartedly to her "hot mess".
Nikki Pennington has three sons, ages 7, 5 and 3. As a result, she said she barely ever sees the floor of her car.
"I am transporting them to and from school four times a day, five days a week. There is bound to be a mess," she told HuffPost.
"I knew I wasn't alone in this because I have friends with cars that look the same," she added, noting that she hoped her post could make other mums in her situation feel less alone with their messes.
"I'd like to give a shout out to all my fellow hot mess school moms," Nikki writes.
"The ones that let their child out at the drop off line and yesterday mornings breakfast wrapper rolls out with them.
"The moms that haven't been able to find the floor board of their vehicles since August 1st of last year.
"The moms that just found that homework assignment they were supposed to sign on August 1st as they were cleaning out their cars on the last day today.
"The moms that tell the teachers the endless pile of soda cans from the entire year are only there because they are teaching their kids about recycling.
"The moms that jump out quickly at the pickup line to get their child so they can manoeuvre the entire pile of the school years special projects to the side.
"To the moms still trying to find where that smell in the truck is coming from that started sometime after August 1st.
"To the moms that live inside their cars four times a day, five days a week and don't have time to clean up that mess they just move it over.
"To the moms that pull up the drop off line with a minute to spare and hear everything in their vehicle shift as they slam on the breaks because breakfast, snacks, school projects and emergency toys while waiting in the pickup line pile up fast y'all.
"To the moms that really aren't sure where some of the stuff even came from.
"So here's to the end of the year, my car is filled to the brim with memories of this school year, I lived in my car, I promise I'm not a hoarder or homeless, I'll clean it up on the last day of school, trash rolls out of my truck in the drop off line, my house isn't this messy, I'll try harder next year, hot mess school moms.
"May we know them, may we love them, may we confess we've all been one, may we promise to look the other way when we see one and not mom shame and may we all know we are doing the best we can even when our car looks a hot mess like us"
The response to Nikki's Facebook post has been mixed, to say the least. It seems there are two types of mums – those with messy cars and those without.
But Nikki is unfazed by criticism of her messy vehicle, and says that she wanted to shatter the illusion of parental perfection that is often seen on social media.
"I hope readers take away the fact that motherhood is messy at times, it doesn't always look Pinterest perfect and that's OK because we are all out here doing the best we can," she said. "I just hope it shows that we don't have to be perfect moms to be good moms."
Besides, there are always advantages to having a messy car – no one asks you to give half the sports team a lift to cricket, everyone's got a hat or a jacket in there in case it gets hot or sunny, and there's always a bottle of water or snacks to share if anyone gets hungry or thirsty!
See, it's not all bad.
As they say, cleaning up while there are children around is like brushing your teeth while eating Oreos. You can do it, but your success may vary.
Have your kids turned your car into the Hot Mess Express? Share a pic with us in the comments!
Source: Facebook/Nikki Pennington