Parents Share Proof That Toddlers Are Hilariously Savage When It Comes to Personal Insults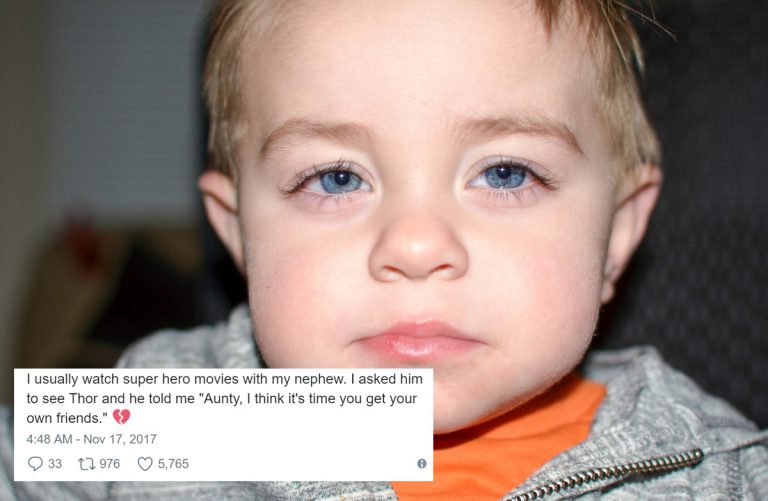 Parents Share Proof That Toddlers Are Hilariously Savage When It Comes to Personal Insults
Ever been cut down by a toddler? Their personal insults are beyond anything we could think of in the shower a few days later. Toddlers look you square in the eye and deliver the most brutal retorts known to man.
And the worst part is that we can't even get mad at them! They are toddlers, after all, and they are usually just being honest. Dammit. We just have to wear it and perhaps turn away so they can't see that they've gotten to us.
Mum and author Angela Davis shared a particularly solid insult her toddler threw her way with her Twitter followers:
Toddler insults are just…whew. She hurts my feelings low key. 😂 Today's tantrum ended with "AND I DON'T LIKE YOUR BRAIDS!"

— Angela Davis (@TheKitchenista) November 16, 2017
Ouch! Angela is not alone though, as others have responded with their own hilarious stories of toddler savagery.
when my daughter was 3, she was playing hide & seek with my pops. He stopped playing & she got upset…with her arms folded she yelled "I don't know why Nana married you anyway" he replied "because she loves me" she says "You don't know that!" 🤦🏾‍♂️

— Alternative Hairline (@walkerk23) November 16, 2017
Little cousin: didn't you just have a baby
Me: yes
Him: so why your stomach still big?
Me: pic.twitter.com/QLOin4YRGj

— London's Mommmy (@LondonNMommy) November 16, 2017
my 3yr old nephew was at my house. I asked him where his mom was. He said "she's at work". I asked where does she work, he said straight faced "at her job". 😂😂😂😂😂😂

— Lindsay St. Repper (@DaGlue) November 16, 2017
Me, while cooking: "Ugh! Curry get every dang where!"
Nephew: Your shirt?
Me: "looks at curry stained shirt' Yep!
Nephew: "Your teeth too?"
Me: pic.twitter.com/82HFTZ1waz

— #fundtolive (@KishaBue) November 16, 2017
My three year old told me I had a puffy butt and will point out a blemish, every blemish, in a hot minute

— summer (@PolitikMasFina) November 16, 2017
My husband told my niece to stop picking on her sister. She whispered in his ear "I don't love you. I don't even *like* you." 👀👀👀👀👀

— Bridge (@bbrbb) November 16, 2017
I shaved my head and asked my 4yo if she still thought I was beautiful. Her: well…I think hats are pretty. Maybe you could wear one.

— Crystal Stephens (@cfairstephens) November 18, 2017
I moved interstate to be closer to my family, and my nephew told me recently "Things were better before you were here."

Oof.

— plain old stripes (@burgotastic) November 16, 2017
Bruh they are ruthless. Mine told me "I want my aunt, because at least she loves me" all because I told her it was bed time

— chronicles_of_xtina (@ChroniclesXtina) November 16, 2017
I usually watch super hero movies with my nephew. I asked him to see Thor and he told me "Aunty, I think it's time you get your own friends." 💔

— 🍂🍁 (@__Roshanda) November 16, 2017
A five year old I was babysitting once told me, "Nobody likes you and your whole life is weird"

😭

…she wasn't really wrong about my life though 🤷🏻‍♂️

— sam kelly (@heysamkelly) November 17, 2017
Toddlers don't care. Yall can be best friends one minute and 5 min later… 😩 pic.twitter.com/wZNFRebUp9

— NA (@peaceful_birdie) November 18, 2017
Man, those are cold! Toddlers and small children have no chill whatsoever!
Do you have a toddler insult to share? Tell us in the comments!
Source: Twitter/Angela Davis