Report: Mick Fanning and Wife Reconcile After Escape From Shark Attack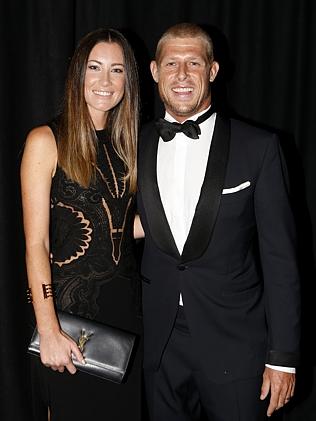 Australian surfer Mick Fanning survived a miraculous shark attack in South Africa last month and the first thing he wanted to do was get home and hug his Mum. Not his wife of 7 years, she got no mention. Just his Mum.
His wife also got no mention in the 60 minutes interview that was aired on Sunday night, and no photos had been seen of them together on either of their social media accounts in weeks – which have people scratching their heads.
So, as it happens in the media, breakup reports have started and Mick's management has had to come to his rescue by denying these reports.
"They're going really well," his manager, Ronnie Blakey said. "They're great."
Image Credit: Daily Telegraph
However, sources are still claiming that the couple did indeed separate earlier this year, but the shark attack has brought the two back together.
"They split around six months ago," a surf industry says, adding that their work kept them apart.
Mick and wife Karissa, who runs an event planning business on the Gold Coast and is a former swimwear model, were married in 2008. She was in Hawaii when the incident happened.
At the time, Mick's Mother Liz Osborne, said: "I don't think she (Karissa) saw the live footage but when she saw it later she couldn't ­believe it. She rang me and told me she was coming home … it was an emotional ­conversation."
Bobby Brown's wife rushed to hospital after Bobbi Kristina's funeral