A Runaway Flower Girl Provides a Hilarious Moment at her Auntie's Wedding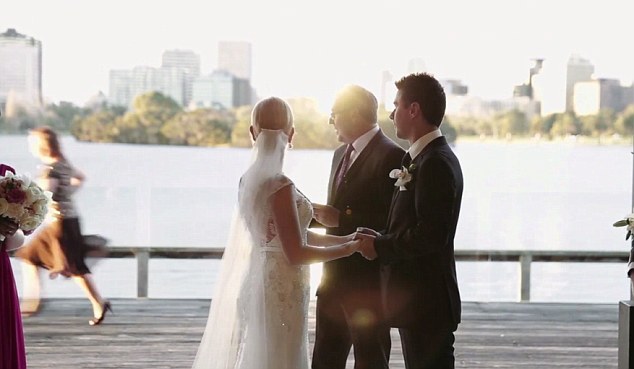 Children and weddings don't always mix. Kids can find the ceremony boring so many couples opt to not invite children to their wedding.
But some couples love the thought of having their closest and dearest with them at their ceremony and that includes the younger members of the family.
One couple, who decided to make their young nieces part of the wedding ceremony have a wedding video to remember.
Tom and Katie Quirk were in front of their guests at a function centre overlooking Albert Park Lake in Melbourne when out of the corner of their eye they saw a hilarious scene unfold behind them.
The bride and groom's three-year-old niece, Chloe, who was also a flower girl, decided to run towards the water during an intimate time of the ceremony. What made the scene even more hilarious was Chloe's mum running to catch her before she jumped into the water.
Mrs Quirk told the Daily Mail Australia, 'I was facing the direction Chloe was running from, but because I was looking at Tom all I saw was this flash of white all of a sudden in my peripheral vision.'
'And then I saw my sister-in-law madly running past and I was like, "Did that really happen?"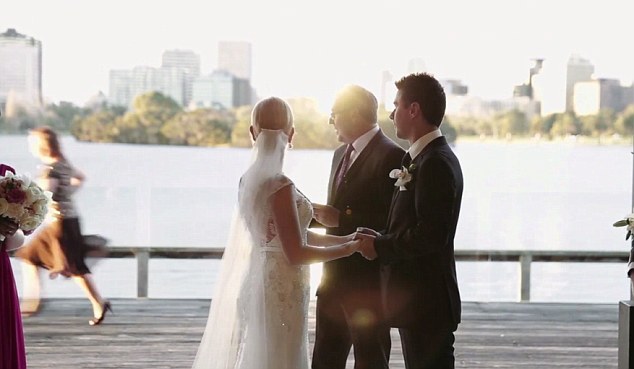 The wedding video zoomed in on the bride as she said her vows, and as the video pans out, a flash of a young girl in a white dress, holding a bouquet, runs across the jetty, with her mother soon following after her.
The whole commotion was captured on the couple's wedding video.
'She was turning around looking at her mum taunting her to chase her as she was running,' Mrs Quirk said.
'It will go down as probably one of the funniest moments anyone we know has witnessed at a wedding,' Mrs Quirk said.
'She was so well behaved beforehand and even as she walked down the aisle she was an angel, but I guess as kids that age do she began to get a bit restless.'
Chloe's mum as able to stop her daughter from jumping into the water, but not before all the guests, including the bride and groom, burst into laughter at the scene behind them.
The video has been regularly watched, with Chloe happy with the attention she's received after her mischievous run.
'She already likes watching it and she just thinks she's hilarious, but I can't wait until she's a few years older and she can actually grasp what that meant,' Mrs Quirk said.
'From my point of view with all the bad news in the world if that can make people laugh and smile that's great.
They can't wait to bring the video out at Chloe's 18th or 21st birthday to joke about that time she decided to try and steal attention at her auntie's wedding.
Sometimes inviting kids to the wedding creates memories you wouldn't have imagined!