Season 8 finale of The Big Bang Theory surprises us all!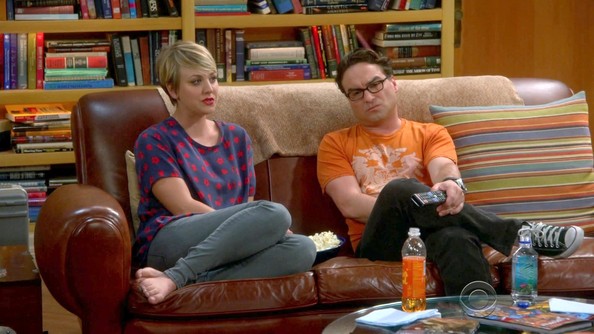 The Big Bang Theory just finished its 8th season – and as the name suggests, it went off with a bang!
WARNING – There are major spoilers below!
Sheldon points out to Penny and Leonard that they have been engaged for over a year and haven't even talked about setting a date for the wedding.
They defend themselves, with Leonard claiming that they love eachother and when they get married doesn't really matter.
Next thing, they hatch a plan – with Penny cheekily mentioning that she has no plans for the night – to drive to Vegas and elope.
On the way in the car, Leonard – who is quite obviously having second thoughts, admits to Penny that he got drunk one night, before they were engaged but while they were dating, and kissed another girl.
Penny assumes he is only telling her because he has cold feet but he assures her that he is committed and they continue their journey looking very unsure as to what to do.
Image Credit: zap2it
Sheldon and Amy have been dating for two years and they haven't had sex. No one is annoyed more about that than Amy herself.
Sheldon and Amy are kissing and in a romantic mood when Sheldon interrupts the moment to ask Amy if he should start watching The Flash. Amy gets angry and Sheldon can't understand why. Amy is then gone for most of the episode until around the end when she has a video call with Sheldon, telling him she needs time to 'step back and reevaluate their situation'.
AND THEN…. Sheldon sadly looks at a statue of Gollum on his desk and says, "Well Gollum, you're an expert on rings," before reaching into his desk. "What do I do with this one?"
*Hearts break!!*
Image Credit: hypable
The ending of Season 8 is very much based on relationships.
Penny and Leonard on how they both feel about their future, Amy and Sheldon and that ring!
Raj wants to break up with Emily because she is too weird for him and Bernadette and Howard are happily married but still have Stuart living with them.
What will Season 9 bring?!
Jack Black and Jimmy Fallon recreate classic 90's ballad
Ed Sheeran helps fan propose at concert
Tracy Grimshaw airlifted to hospital after horse riding accident
Like What You See? Go HERE for more latest news.