Sexist or Smooth? Cricketer Chris Gayle Under Fire for Comment to Female Interviewer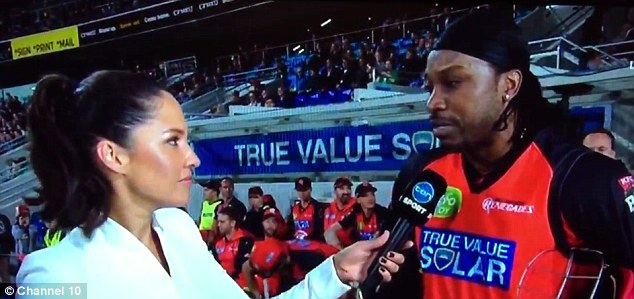 Jamaican cricketer Chris Gayle is under fire today for what some are calling inappropriate comments to a female reporter during the Big Bash League coverage on Channel 10 Monday night.
Chris sent social media into meltdown when he openly flirted with reporter Mel McLaughlin in his on-field interview after he was dismissed for 41 off 15 balls.
"I wanted to have an interview with you as well, that's why I'm here," Chris said live on national television.
"I get to see your eyes for the first time, it's nice. Hopefully we can win and go for a drink after. Don't blush baby."
https://www.youtube.com/watch?v=2rzn60xPH_0
The always professional Mel finished off the interview as Ten's Mark Howard called Chris' remarks inappropriate.
BBL boss Anthony Everard said a key focus of the Big Bash is to engage new audiences headed by females and kids.
Anothony said the league would "certainly" be talking to Gayle while Renegades chief executive Stuart Coventry said "there is just no place for that sort of behaviour".
So what do you think? Sexist or smooth?