Shop Assistant Tells Young Girl She Needs To Wear Spanx!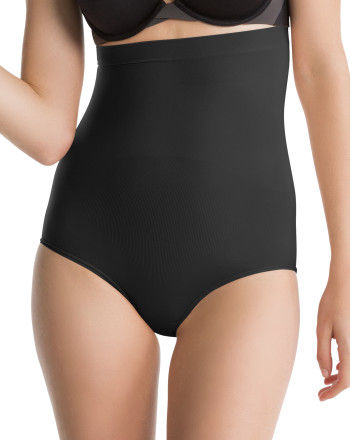 Who remembers being a teenager and feeling awkward and self conscious about your body. You're still growing and trying to make sense of who you are and what your style is. What you need is the love and support of those around you. What you don't need is a complete stranger telling you to put Spanx on!
That's exactly what happened to a mother and her teenage daughter recently. Megan Naramore Harris posted this photo of her daughter Lexi trying on a formal dress at a store in their local shopping centre.
"I found this dress and asked her to try it on. She told me this was not her style, but tried it on for me," Ms Harris wrote on her Facebook page.
"I told her how grown up it made her look and she smiled, and told me this made her look too old but still, she let me take a picture.
"Right after that, you (the shop assistant) entered and told my daughter she needed to wear Spanx if she wanted to wear this dress. I told my daughter to go change. I told you that she was just fine without Spanx. You continued to argue with me. We left soon after."
"Telling them they need something to make them perfect can be very damaging. If they feel good in a dress, that is all that should matter. My daughter is tall, she swims, runs, dances and does yoga. She's fit. She's beautiful.
"She did not need you telling her that she is not perfect. I hope this is shared and gets back to you so that you should not say something like that to a girl ever again. You never know what negative or positive thoughts they are thinking about themselves."
The post so far has has received 368,000 likes and more than 62,000 shares. The comments people are posting are encouraging of Lexi and condemning the way the sales assistant spoke.
"That lady was a rude b***. Lexi is beautiful the way she is," wrote one woman.
"She is beautiful and that lady is part of the problem with society!" said another.
Others said: "Lexi is indeed beautiful … just the way she is. The dress is a pretty ornament and absolutely no Spanx needed."
Unfortunately whether we like it or not women are constantly judged and criticised for their appearance- usually from other women. I don't have an issue if you want to make a comment to a grown woman about her body but once you start attacking vulnerable and impressionable teens then we have a problem. This is how negative body image is created and how eating disorders begin. How about you tell the gorgeous teenager standing in front of you how stunning she looks in that dress rather than pour your own negative opinions onto her!