Tarot Reading ~ 28th July – 3rd August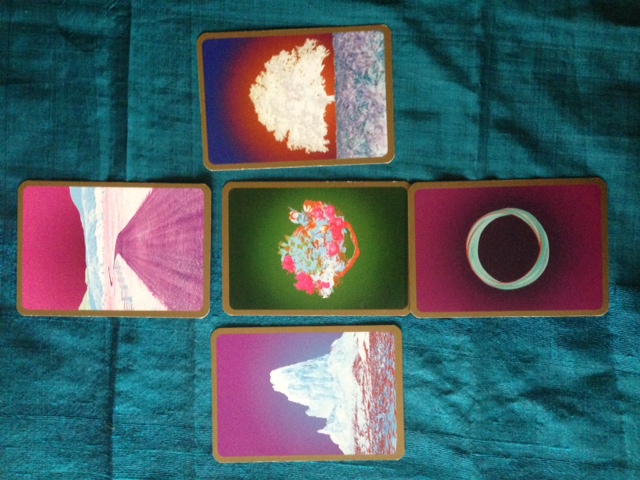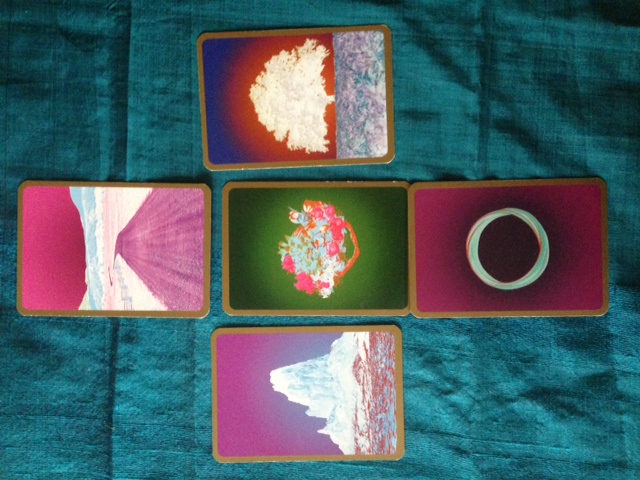 This week I have chosen a different set of cards to use, a rather simple but direct tarot. I hope you like the change.
This weekly spread takes 5 cards with the central card being the overriding influence.
CENTRAL CARD:
FLOWERS
An absolutely divine card, meaning, you are being looked after. Happiness is at the core this week.
This card signifies the return of happiness or the fulfilment of happiness. Be this in the return of someone you have missed in your life or in the way of a resolution on an issue that has bought you unhappiness. However it comes embrace it.
All the surrounding cards are influenced by the happiness, joy & love that the Flowers card always bring.
ROAD
A new path or direction is now appearing to you. With the influence of the flowers there is definitely romance ahead. Perhaps a weekend away with a partner or maybe a full-blown holiday romance awaits?
The Road always signifies something new, it points to change.
TREE
Strength, health & vitality. You have grown wonderfully out of a situation & gained knowledge & confidence.
This card also asks you to set aside time for yourself for meditation & introspection to see how much you have grown. Imagine yourself sitting under the wide sweeping branches of a lovely strong tree, lean against the trunk & visualise the sunlight glistening through the leaves, see the dappled shadows of the leaves & breath in the fresh air….beautiful isn't it?
This is truly a card of wisdom & knowledge.
RING
Joy in relationships. This card represents the strong bonds of love.
In this spread, so heavily influenced by the central card of Flowers, the Ring card bodes well for an excellent relationship. It is simply about strong love & joy & happiness in romance. When in a direct link of the Road + Flowers + Ring it seems to point towards a new turning point in a relationship, of a time to move forward.
MOUNTAIN
Not a foreboding card in this spread but it signifies something big, solid & strong. It can often indicate foreign affairs, someone from overseas. With the surrounding cards this could be an overseas holiday or a romantic affair with someone from another country. With the Road also in this spread it could indicate a move overseas.
IN SUMMARY
With the central card being one of such happiness I foresee a great week for many of you, romance & travel are strongly indicated here.
Of course this reading will not suit everyone; I simply call upon the cards to give me an indication of the energies around for this week.
For a personal reading please contact me at [email protected]