Tarot Reading ~ 30th June – 6th July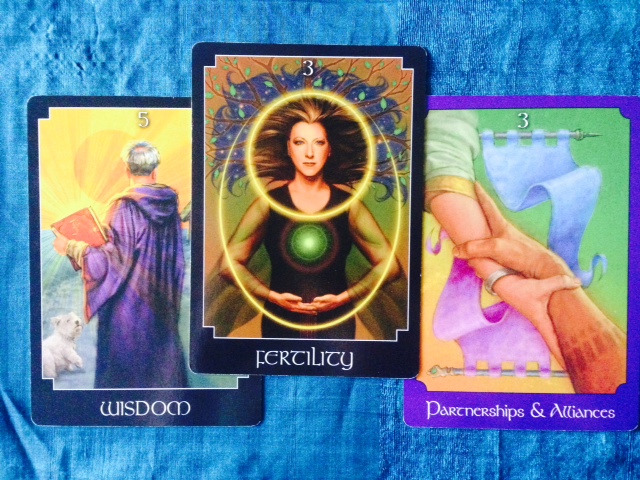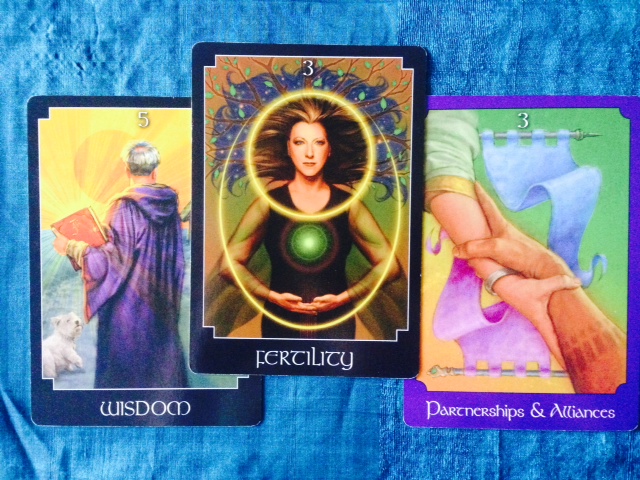 I have been meditating this morning on the ancient mantra which translates as existence, consciousness, bliss, so it's not surprising that these themes have appeared in this week's reading.
MATERIAL HARVEST 9 (existence)
Red bordered cards deal with the material world & the number 9 signifies a completion stage, end of financial year perhaps? Exam results?
What you sow, you will reap, and it is time to reap the harvest you have worked so hard for. This is a card of self-mastery, self-sufficiency & independence. It represents projects completed, it asks you to look forward using the wisdom & knowledge you have gained.
Think about your next step as you are congratulating yourself on your achievements.
NEW BEGINNINGS 0 (consciousness)
This is the first card in this deck & it relates perfectly to Material Harvest. This card signifies taking the first step on a journey, taking that great leap of faith.
You will need to make important & well considered choices, proceed thoughtfully using all the wisdom you have gained.
Life will always nudge you to move forward, it's unavoidable. Our entire survival thrives on evolution & this is as important & vital now as it was 100 million years ago. Call upon your inner strength, your courage as you step out into the unknown. Do not be afraid of change; listen to your inner guidance, wisdom & hard earned self-confidence to propel yourself forward onto a life changing path.
This is your adventure!
CROWN CHAKRA (bliss)
Here we are again….who didn't pay attention when this card appeared a couple of weeks ago?
Whenever the Chakra cards appear we are being asked to take a moment & re-connect with the energy of the universe & how it relates to our physical bodies.
The Crown Chakra is on top of your head & it is your link to God! Your phone line to the divine & that is something we must all keep clear, it is your opportunity to tap into the deepest sources of wisdom.
Meditation is the easiest way to keep this Chakra clear, try to find even 5 minutes a day to meditate. Start with the easiest, focus of breath, simply inhale through the nose over 4 seconds, hold the breath for 4, exhale for 4 & wait for 4 before doing again. Meditation is like any exercise, the more you practice the better you get at it. There are plenty of apps around that can help you learn to meditate.
So the existence, consciousness & bliss meditation has definitely shown itself here in this reading, I hope you have received some guidance for your week.
Blessings
For a personal reading please contact me on [email protected]
Or you can follow my facebook page www.facebook.com/HomeHealing/SouthAustralia