Tarot Reading ~ Focus on What YOU Really Want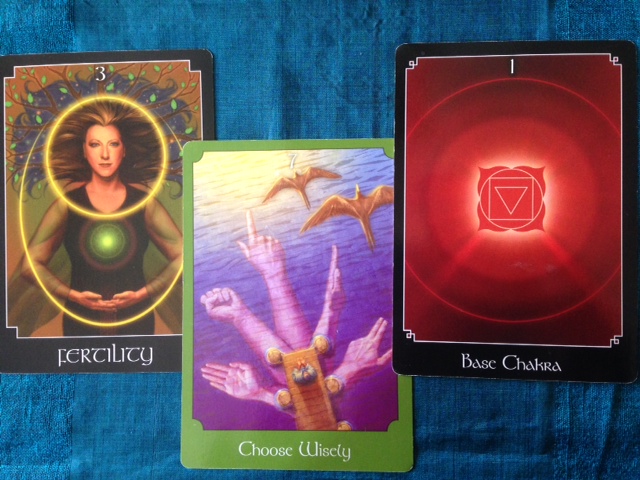 This Week's Tarot Reading
That Fertility card is back again!
FERTILITY
Here she is again! Who wasn't paying attention last week? Who isn't listening to their inner Goddess & believing in their own massive creative power?She re-appears today to emphasise the creative master that you are, you have created all these opportunities that are now before you. You have planted the seeds that are now growing & calling for your attention. She is calling you to be still & listen to your own inner guidance.
CHOOSE WISELY
What is the vision or goal that you are considering? There are many choices around you at the moment, scattered energies & unrealistic expectations. Everyone around you has an opinion & is very willing to give it; people with no experience or understanding are telling you what you should do.This is not the time to listen to them. This is the time to think carefully, analyse situations & carefully consider each opportunity ahead. Tap into that inner Goddess who created all these opportunities to work out what it is you want to achieve.Focus on your long term goals, there are choices for you alone to make, do not let others push or pressure you into a hasty decision.
BASE CHAKRA
This is the energy centre that is situated at the base of the spine & is related to earthly matters, survival, shelter, safety, the physical body, money matters.The appearance of this card is to ask you to turn you attention to basic living areas. Do you need to do more exercise & look after your health? Do you need to tidy up your finances? Does the roof need fixing?
Whilst I always encourage my readers into mediation & spiritual awareness this card asks you to focus on your basic physical needs.
SUMMARY
That beautiful fertility goddess appears again this week reminding us that we are the creators of our own worlds, we have created all the opportunities that currently lie ahead of us. Listen to that inner goddess in making the decisions that will determine our future. Is a week for you to shut out the noisy opinions of others & focus on what you really want.
For a personal reading please contact me on [email protected] or join my growing positive community on www.facebook.com/HomeHealingSouthAustralia