Tarot Reading ~ Inner Conflict and Sacrifice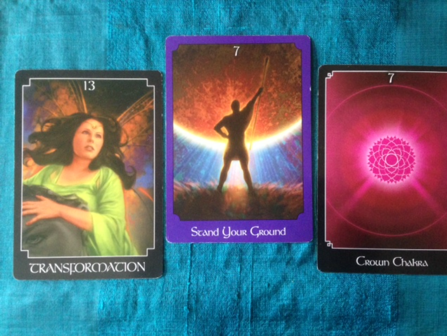 This Week's Tarot Reading
Good Morning Mums Loungers, here is your weekly reading, hope you will find a little guidance & insight for the upcoming week.
MENTAL CONFLICT
This card is about the inability to move forward, its self-doubt & indecisiveness, that horrible feeling of being utterly unable to take action, the angst & anxiety that causes. You may be feeling like a deer in the headlights, stunned & still.
You know you have to make a decision about something in your life & you can avoid it no longer, reach out for help, seek advice. There is help out there for you just ask for it, people around you can see you struggling & are desperate to offer you help. Take advice from those whose opinions you value & listen to your own intuition.
SACRIFICE
The sacrifice card is asking you to look around your life & see what you can do without, in surrendering & letting go we make room to receive. This card often symbolises a period of transition & change. The solutions you are searching for can be slow in coming, you need to LIVE INTO your future, live into the life you want.
Accept that you cannot always control the outcome, the sacrifice of that control can be hard but letting go can be such a relief. It is time to leave the past behind, it's time to heal & let life move you forward.
INTUITION
Our world is so noisy & busy, we are constantly being flooded with information & it is not easy to hear our own intuition, that voice that is the language of the soul is often drowned out in the modern world.
This card is telling you it's time to listen.
Pay attention to the coincidences & synchronicities occurring around you every day, they are not random, they have meaning. Seek the answers you need from your own intuition. Learning to listen to your own soul is invaluable; you will begin to have a sense of perception of people, of situations, that you had never realised. When you finally hear your intuition calling you the answers from the back of a crowded room it's amazing & liberating.
SUMMARY
So it looks like some of you have a tricky decision to make, you are at a point of leaving the past behind & moving forward, you are being asked to tap into your intuition, hear your inner language & live into your future. I know I bang on about this all the time but try & find the time to mediate, take 15 minutes of quiet to get in touch with your intuition.