Tarot Reading – New Beginnings & Spiritual Strength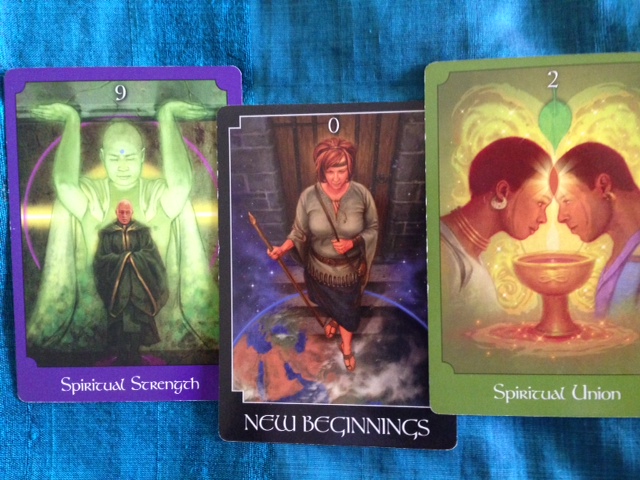 Good Morning Mums Loungers, ready for some positive energy this week?
SPIRITUAL STRENGTH
WOW! What a great start this card is, it represents courage, discipline & persistence, it reminds you not to give up. You have vast reserves of inner strength available to you now & this is not the time to give up & surrender. You are very close to completing a big stage in your own spiritual growth, the understanding & enlightenment you have gained are invaluable, you enhanced understanding of your own place in the universe feeds your spirit & encourages those around you.
This card really appears today for those of you who have truly been working on yourselves, those who are trying to gain a deep understanding of their life goals, of being more in touch with their spiritual selves.
Well done
NEW BEGINNINGS
This card is all about taking that great leap of faith into the unknown, starting off on the next phase of your life, it is bound to appear in this weeks spread because it speaks of inner change as does the first card.
Life in constantly trying to move us forward, it can be daunting but you have the inner strength to try, you have the courage to take a leap of faith. Change can be difficult & confronting but remember that you are never alone in this life, you are surrounded by loving spirits & guides, not to mention your own inner guidance.
This is a time of change for you now, be it starting a new job, beginning or ending a relationship, moving house or simply deciding to discard old thought forms & beliefs. The change is before you & you have to decide to take that leap of faith.
SPIRITUAL UNION
The card of emotional bonds, be they romantic, between a parent & child, friends or even work colleagues. This card asks you to notice the energy exchanges in these relationships, is the exchange of energy balance? Do you get back what you put in? Is your input appreciated? Are you being paid what you are worth?
Keep in mind that all relationships are a mirror to how you treat yourself, do you respect your own energy? If not how can anyone else….if you want more balance in your relationships firstly improve on the one you have with yourself, treat yourself with respect & care, then others will follow your course. Balance of energy is vital, give & take must work in unison for a true spiritual union.
SUMMARY
What a huge amount of energy is around this week, pretty intense. It is all about your spiritual growth, of what you have achieved for yourself & how to move forward. The last card is interesting & a bit of a different to the others, asking you to look at the energy exchange in relationships
I am happy to do personal tarot reading over the phone or from my home, please contact me initially by email [email protected] or at https://www.facebook.com/HomeHealingSouthAustralia
Blessings to you all.
xx