Tarot Reading ~ Prosperity, Success & Hope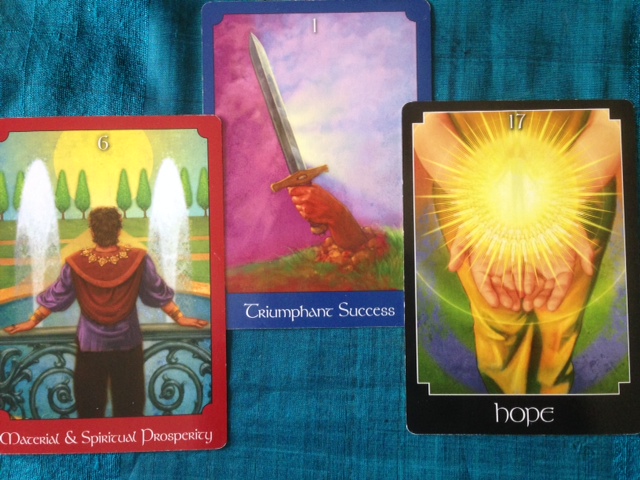 This Week's Tarot Reading
What does the universe have in store for you all this week? Well, that I can't tell you but what I can help you with is giving you advice on the tools you may need to get through it!
MATERIAL & SPIRITUAL PROPSPERITY
Everybody LOVES this card!! & why not? It's what we all want isn't it?
It signifies a time of tranquillity when all those worries & nagging money issues just disappear. You have been working hard towards a goal & now your efforts are paying off. A pay raise at work or even an unexpected windfall will make a big difference to your financial situation. When we feel better about our material issues it is so much easier to feel better about everything else.
This is a time of prosperous balance & harmony both in your spiritual & physical worlds. Always remember to balance receiving with giving for true riches. Prosperity will continue to thrive where gratitude & generosity abide.
TRIUMPHANT SUCCESS
A time of new beginnings & exciting challenges lay before you. Relying on your inner strength, your determination & focus creates the potential for success. The image of the sword emerging from the dark earth is very emotive but you should always remember that the sword of victory is double edged, so while it can cut through barriers it can also be destructive & harmful.
This card tells us that although success is in our hands we must not charge ahead thoughtlessly but we must think before acting, balance our clarity with control. Look before we leap.
HOPE
This utterly divine card reminds us that what we think is impossible in in fact possible!
The Hope card is the embodiment of the power of love, of a positive attitude & that our own beliefs that determine our success.
This card appears today to ask us to listen to our own natural intuition as we reach toward our goals. Listen to the quiet language of the soul. Keep that pure, beautiful inner light burning, even when all around you is dark & all hope seems lost. It is up to each of us to keep that light of hope alive.
We all go through dark & difficult periods in life but without hope we would never survive them, without the inner belief & hope that life can be better how would we get out of bed somedays?
It is absolutely true that a positive attitude will allow your soul to soar, dreams to come true & for the impossible to be possible.
SUMMARY
Well, these cards do indicate a Melbourne Cup win might be there but I am certainly not about to advocate that you all dash out to place a bet! That's your choice…But prosperity & success do figure quite strongly this week but that is more likely to be due to your own hard work & self-belief. The cards this week are definitely very positive & inspiring. Hope is one of my absolute favourite cards because I am all about positivity & self-belief because they have kept me moving forward when all around me fell apart. It is unspeakably hard to keep positive & keep that inner light burning when all you feel is pain, despair & fear. But hope only needs a flicker to keep it alive & if you allow it that flicker will burn bright quickly.
I recently read a quote from a man named Rob Bell:
"Despair is the conviction that tomorrow is going to look just like today"
How utterly & depressingly true, that is why we need hope, hope must always thrive in our hearts.
So my lovelies keep that light alive this week & share it with all you meet.xxx
For a personal reading please contact me on [email protected] or join my growing positive community on www.facebook.com/HomeHealingSouthAustralia.