Tarot Reading: The Medicine Cards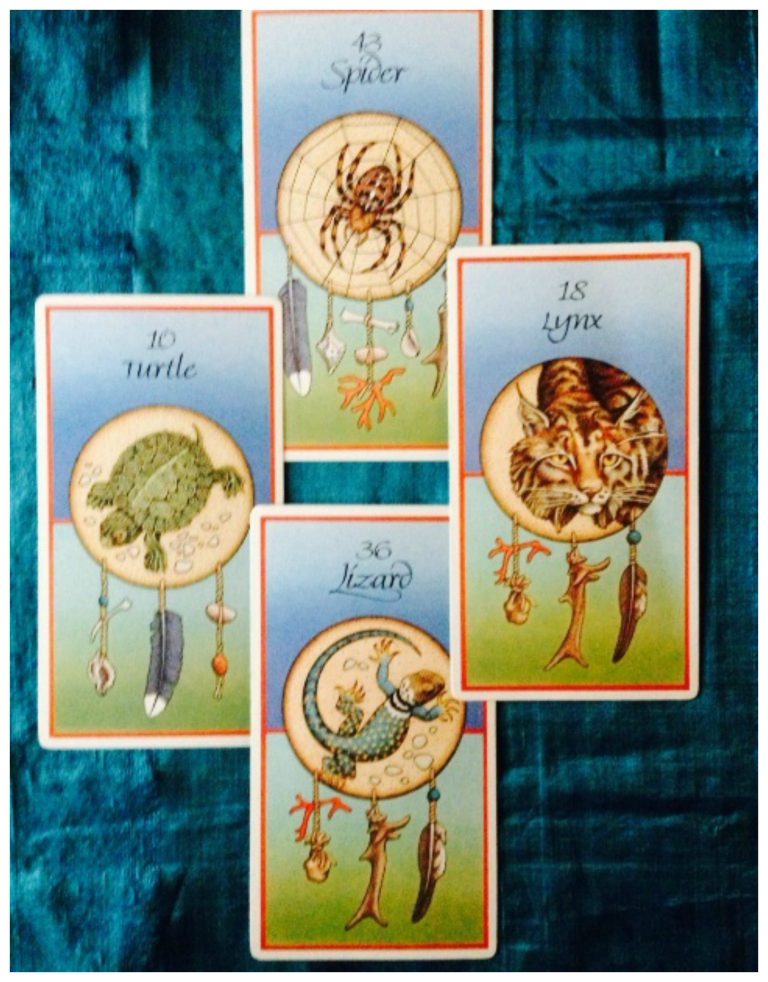 Tarot Reading: Tap into your Creativity
Welcome to spring! As a nod to the change is season I am changing cards this week, I'm using the Medicine Cards, a beautiful deck of animal medicine as told by Native Americans, they talk about the energies & gifts of each animal & how we can harness their 'medicine' in our own lives, I hope you enjoy.
Spider – Weaving
The spider is the symbol for the infinite possibilities of creation; she represents the winds of change. She is the female energy of creative force, weaving the beautiful & awesome designs of life.
She asks us to be creative, to look around for new alternatives to a current impasse, she can also warn of an entangling & potentially dangerous situation, a web.
Spider reminds us that we are infinite beings; we should not fail to see the expansiveness of eternity. When you see a spider in its web she will often be sitting up high & watching over her creation, waiting patiently, being careful not to miss anything that comes her way. Find ways to use this skill in your own life, spider does not scamper frantically over her web, she waits knowing that what she has created will work to her advantage.
Lynx – Secrets
This is a card of the occult, of clairvoyance & clairaudience. The Lynx appears today to ask us to tune into our own skills in this area, to pay attention to the mental images we receive & to those inner voices. Open up to this side of yourself, find your inner stillness, be quiet like the Lynx. When you meet someone take a moment to tune yourself into their energy, what can you see about them? What images do you receive? When you see mental pictures about someone you do not need to declare it to them, keep it to yourself. Be like the Lynx, all knowing, the keeper of secrets, a creature of silence & stealth.
If you are someone (like me) who is not good a keeping secrets this card is asking you to start trying!
Lizard – Dreaming
The Lizard is the medicine of the dreamers. The Lizard appears to be sleeping in the shade but he is actually dreaming in the shadows. The Lizard sees the shadow side of reality, the shadows that follow us around everywhere, Lizards is asking us to turn to our shadow & see what we are being followed by. Are we allowing the fears & hurts of our past follow us or is it the hopes of the future behind us? Whatever it is now is the time to face it, its always better to know what is in that shadow isn't it?
Lizard medicine is asking us to pay attention to our dreams, what are the symbols that keep occurring in them & how are they relating to our waking lives? Dreams are where our true desires & fears live, what we don't face during the day will stay with us in sleep.
Turtle – Mother Earth
Turtle medicine is the personification of Mother Earth, the Goddess energy. It is the fusing of the water & earth energies because both places are home to turtle.
This card appears today asking us to honour the creative source within, to be grounded to the earth & to observe your situation with a motherly compassion. Learn the skill of grounding, focus on your thoughts & actions, slow to a pace that brings completion.
Turtle buries her eggs in the sand & allows nature & the sunlight to hatch them, she doesn't push, she doesn't demand, she just let nature take its course. Turtle plods along with focus & all is still achieved. When turtle appears you are being asked to develop your ideas before bringing them into the light.
It is time to connect with Mother Earth & the Goddess within & ask for their assistance in creating your dreams, trust that abundance will follow.
Summary
Todays reading has been a lot about creative forces & listening to inner guidance & dreams. Both the Spider & Turtle are asking us to create but let nature take its course & Lynx & Lizard are more focused on the occult side of ourselves.
I hope you enjoyed the change of cards, I would love to know what you think!
If you would like a private reading please contact me at [email protected],com or you can follow me on www.facebook.com/HomeHealingsouthaustralia