Tarot Reading – Time for Leadership & Authority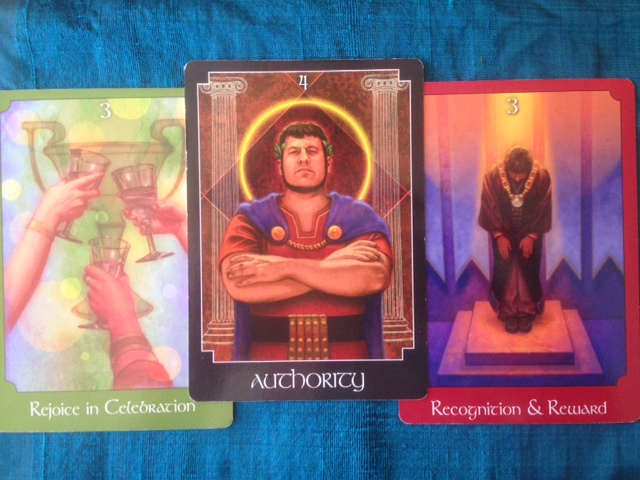 This Week's Tarot Reading
Time to tap into your inner Arnie to move forward!
REJOICE IN CELEBRATION
Such a beautiful card to start the week.
This card speaks of success & joy. Victory is at hand, you are doing what you love most & pursuing your passion. When you listen to your heart that is your intuition talking & the possibilities are endless, you can feel that fantastic energy moving inside & around you.
The number 3 symbolises unity & the green cards are all emotion so this is a great time. Everything is coming together so be happy & thankful for all that you have & all that you are creating. Be aware & grateful for all that you have accomplished.
AUTHORITY
I love this card, especially for women & most especially for women like me who can be a bit go with the flow because this card demands the opposite!
It is about leadership, logic, strength, strong mental control & power, all those very masculine qualities. You are being asked to tap into those qualities that are definitely there in each of us but are not always at the forefront.
Sometimes this card appears to represent a Father figure or a person with wisdom & authority in your life. Look at that person, see the qualities they have that you lack & learn from them. You are at a time when you need to step up & be the leader, develop your skills of logic & rational thinking.
A time approaches when you cannot just let the universe handle things, you must step up & take charge. You must stop talking & start acting, pull your ideas into form, create solid foundations. You need to have plans & structure. Real authority comes from a place of wisdom & rationality, when authority is used with grace the result is harmonious & successful.
REWARD & RECOGNITION
Honour your abilities, see your hard work, skills & expertise. While others recognise your hard work & are happy to praise it you must also see the value of your contribution.
If you have been working in a group to achieve a common goal be aware that your efforts are noticed & appreciated by those around you. Keep working & know that there are plenty of people who are happy to help. Your past achievements are laying a solid foundation ready for you to launch into the next opportunity.
SUMMARY
The first & third cards are very similar — the first is emotions & the third is physical. They both touch on acknowledging your achievements & the joy in accomplishing a goal. The authority card is one of my favourites it urges us to tap into those masculine qualities & lead from the front. These cards together speak of having achieved a lot so far but to move forward you need to take on a leadership role. You are ready for it, the cards are here to tell us what we need to be aware of to take the next step into our future.
Have a beautiful week xx
For a personal reading please contact me on [email protected] or join my growing positive community on Home Healing South Australia

I have also started blogging about trying to live a more Spiritual life while still dealing with the day to day, because who has time to sit on a mountain & mediate? Really! Visit me at Home Healing Life Healing.