Tarot Reading – Transformation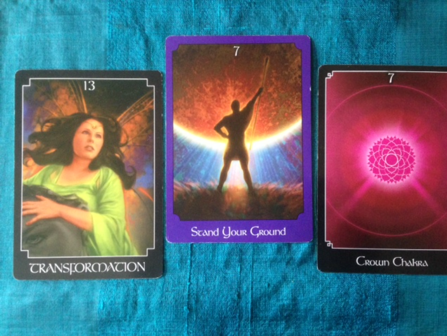 This week is asking you to emerge from your cocoons as beautiful butterflies.
TRANSFORMATION
In traditional tarot reading this is the Death card, what that really means is that is the card of new life, of transformation, it is a positive & life affirming card. Today it appears to bring attention to a situation where you are being pushed to release the past & take a positive step forward into a new way of thinking.
Have the courage to know that renewal follows conclusion, old habits must die for new thinking to start & move us forward. This card is about the ebb & flow of life, of shedding an old skin & emerging fresh & re-vitalised.
So ask yourself what do you need to give up, what project or relationship needs completion so you can have a fresh start. The picture on this card is perfect, it represents the butterfly emerging from the dark cocoon, the representation of shedding an old skin & coming through the darkness into a beautiful future.
STAND YOUR GROUND
This cards asks you to be brave & stay true to your values, remain clear & focused. This is not the time to step back & surrender, don't let go of the reins.
What is going on in your life right now? Are you being tested & challenged by competitive & cunning rivals? Stay strong, keep your energy levels high, eliminate doubt & fear & you can win the battle.
In keeping true to ourselves, keeping strong & standing our ground we keep focused & will win.
CROWN CHAKRA
This beautiful energy centre card is for the Chakra at the top of your head, your crown, this is your connecter with the universe. This is the Charkra that receives light & energy of the universe.
To keep this Chakra functioning & well aligned try breath exercises, yoga, meditation & acupuncture. When this Chakra is fully functioning you can tap into the deepest sources of universal love & wisdom.
SUMMARY
On the face of it there is a little contradiction in today's reading, the Transformation card wants you to work in the ebb & flow of life & the Stand Your Ground card wants you to focus on your core beliefs. What I see is that it is time to let go of the limiting beliefs, let go of past trauma, release what isn't working for you & focus on what you know does work, focus of the positive & keep that focus. Tapping into the universal wisdom through a well-functioning Crown Chakra will aid you in fighting the upcoming battles & winning.
For a personal reading please contact me on [email protected] or join my growing positive community on www.facebook.com/HomeHealingSouthAustralia